Pentagon Row: A Pocket of Perfection
Posted by Mark Washburn on Monday, July 9, 2018 at 4:40 PM
By Mark Washburn / July 9, 2018
Comment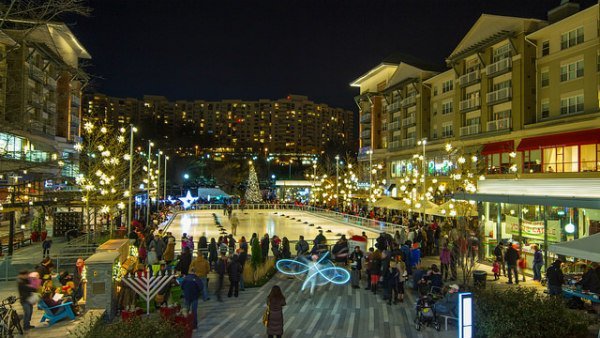 Photo: Joseph Gruber
With year-round entertainment possibilities, Pentagon Row is quite simply a pocket of perfection. This unique area is one of the most exciting places in the DC area to live, work and play, with a variety of businesses to tempt your taste buds and entice shoppers.
Along with a number of restaurants, ranging from burger spots to smoothies, more exotic cuisine to those exhibiting a more casual flair, the property additionally hosts an outdoor concert series, adding to its entertainment selections. In addition, Pentagon Row is home to everything from jewelry stores to salons, grocery stores to clothing options.
In recent years the property underwent a major renovation project, expanding the winter ice rink and a lawn area, plus improving upon its outdoor dining space. As well, the area also expanded its overall dining and retail space, plus added in a stone fire pit and lighted water fountains.
The outdoor skating rink alone is easily the largest rink of its kind in the region, and one of the largest in the entire state. The convenient location additionally includes upscale apartments, supplying everything from cozy studio floor plans to more spacious one-, two- and three-bedroom units.
Some of these homes additionally offer fireplaces, private balconies, and such upscale extras as granite countertops and hardwood floors. As well, area residents are treated to an indoor swimming pool plus a fitness center, in addition to a sundeck and a business center.
Open every day of the week, Pentagon Row caters to area residents and to visitors. As well, the area is also home to thousands of square feet of office space. The ideal area is also just a short drive to other area attractions and a short walk from the Metro too, making it easy to commute to and travel around Arlington and the rest of the surrounding DC area.