Park View is Not Petworth
Posted by Mark Washburn on Saturday, February 5, 2022 at 8:06 AM
By Mark Washburn / February 5, 2022
Comment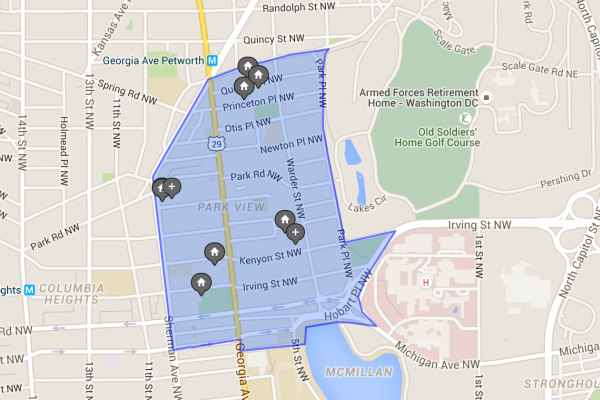 While sometimes confused with or even combined with its nearby neighbor, Park View is certainly not Petworth. The Northwest DC neighborhood of Park View has its own distinct qualities, and an appeal that's all its own.
In recent years the Park View neighborhood's seen a wave of new development, with new bars and restaurants for locals to choose from. The neighborhood itself, however, really dates back to around the turn-of-the-century.
That's when several other neighborhoods combined to form the place we now refer to as Park View. The neighborhood gains its name from the "park" space attached to the Old Soldiers' Home.
At one time, the home's grounds were open to the public. These days, Park View carries on its namesake with community gardens.
This diverse, mostly residential neighborhood now attracts those of various backgrounds, but it does seem to be especially popular right now with young couples in search of their first home. Still, there are some families that have lived in the area for decades.
When it comes to housing options in Park View, prospective buyers tend to find mostly Wardman-style rowhouses. Homes in the neighborhood tend to sell fast, and it's not uncommon for buyers to get multiple offers which result in bidding wars.
Plans are in the works to bring more housing options to the neighborhood, including more affordable housing. There is also an effort to create a Park View Historic District with nearly 200 sites and buildings on the north side of the neighborhood.
As for now, one big draw for the area is its rec center. You'll find a basketball court, soccer field, playgrounds and more for those of all ages to enjoy.
Most retail establishments in the neighborhood can be found along Georgia Avenue, especially when you get close to the Petworth Metro station. Many of them are smaller, family-owned businesses.