Our Three Favorite U Street Condo Developments
Posted by Mark Washburn on Friday, April 18, 2014 at 7:09 AM
By Mark Washburn / April 18, 2014
Comment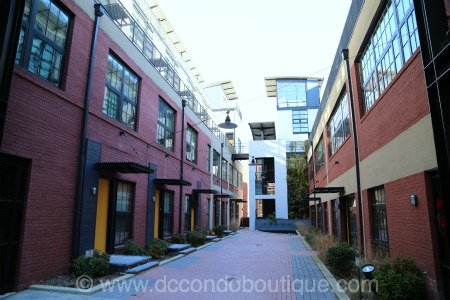 The U Street Corridor has so much going for it:  Cool new condo buildings, convenient location, easy walk to the U Street Metro Station, shops, art galleries, coffee shops, cafes, restaurants, nightclubs and music venues all in this vibrant 9-block area of DC.  Coming to life over the last decade, U Street is a residential and commercial success where you can walk to all the urban conveniences you will need like a Whole Foods Market, gym, international restaurants and theaters.  To ease your search in finding the ideal condo, we are highlighting our 3 favorite condo developments in the heart of the U Street corridor:

The Warehouses at Union Row:
Stylish luxury 3-level townhouse style condos offer open floor plans with 9' ceilings; large floor to ceiling windows to maximize natural light; European-style kitchens with granite countertops and stainless steel appliances; private terraces; and kitchens flow into spacious living and dining areas.  Delivered in 2007, the Warehouses are located on 14th Street between V and WW Streets.  The overall building combines industrial design with luxury finishes.  Union Row amenities include units surrounding a courtyard with benches, fountains and walkways; parking; front desk concierge service; a first floor residents' lounge with a flat screen TV and European-style kitchen for parties; indoor and outdoor resident lounges; and in-complex shopping garage parking.  A first floor grocery store and pharmacy are conveniently located.  Cats and dogs are allowed.  A cool feature is the blending of the old (warehouses' original brick façade) with the new (interiors and upper floors have new modern eco-friendly materials).  There are 52 condos at the Warehouses at Union Row, and the spacious corner penthouses offer private roof decks with spectacular city views. 

The Balfour:
The Balfour Condominium is a Beaux Arts landmark located on the corner of 16th and U Streets, NW, offering 53 condo residences with an elegant restored lobby.  The 6-story Balfour was one of the first Beaux Arts apartment house facades in DC, named for former British Prime Minister Arthur James Balfour who served from 1902-1905.  Originally constructed in 1900, the building was renovated in the 1980s into 54 units and sold as condos.  Many units at the Balfour have been updated to provide modern conveniences while preserving the original character of the building.

The Lacey Condominiums:
The award-winning Lacey Condominiums showcase an ultra-modern building at the corner of 11th Street and Florida Avenue, NW.  Designed by renowned architects Division 1 and completed in 2009, the modern exterior of the building mixes concrete walls with a solid steel framework with transparent glass panels.  The 4-story Lacey has an interior atrium in which hallways seem to float unsuspended.  The common areas have an open design to encourage neighbors to gather.  The 4 live-work duplexes have private front yards and entrances.  Outdoor access is offered for all residences by balcony, yard or rooftop deck; there are 4 penthouse suites with rooftop decks and grand views.  The 26 residences range from 1-2 bedrooms; 1,140- 1,800 square feet.  The homes feature high ceilings, hardwood floors, open plans and large windows to maximize natural light.  Uncovered parking is offered at the Lacey for an additional fee.