Olive Street in Georgetown's East Village
Posted by Mark Washburn on Monday, August 2, 2010 at 11:06 AM
By Mark Washburn / August 2, 2010
Comment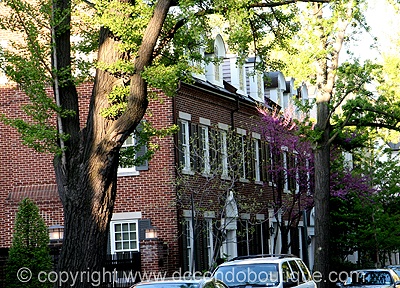 Kathleen Parker's column, Leaving Olive Street but Keeping the Memories, in yesterday's Washington Post highlighted the human side of this beautiful East Village street. It was fun to learn that Mary Jo Kopechne and Julia Child had lived on Olive Street and that the street appeared on the screen in both "Burn After Reading" and "Wedding Crashers."
Stretching just three blocks from 27th Street to 30th Street, this bucolic piece of Georgetown has much to offer. At the 27th Street end of Olive, the extensive Rock Creek Park Trails provide endless opportunities for fitness and fun. The shopping and dining of both Georgetown and Dupont Circle are within walking distance and are frequented by East Village residents.
The architecture along Olive Street includes traditional Georgetown row houses, many of which have remained intact as single-family residences. Additionally, the renovated Phillips School Condos and newer Phillips Row developments are located on Olive Street.
Here is a resource to view active Olive Street real estate listings.