New Waterfront Park Coming to Old Town
Posted by Mark Washburn on Friday, May 26, 2017 at 11:09 AM
By Mark Washburn / May 26, 2017
Comment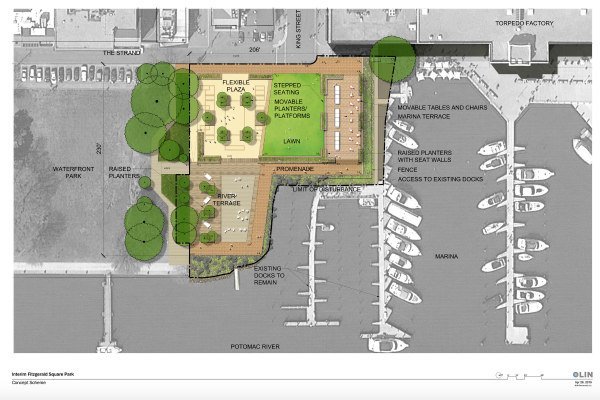 By the end of 2017 the emergence of a new waterfront park in Old Town will likely begin to take shape with the planned addition of new benches and tables, plus an ice rink in the winter, and room for craft and food fairs. It's actually just an interim park, one that will later be replaced with larger green space once new infrastructure goes in, but nevertheless expected to be an enjoyable location for the next several years.
Plans call for the 1.4-acre Fitzgerald Square to open up soon enough that locals and visitors can still use the location, while at the same time progressing with larger plans for the future. The park replaces the Old Dominion Boat Club, its parking lot and a smaller swatch of green space. Demolition of the clubhouse, though, likely won't happen until late 2017 when a new clubhouse, this one about two blocks away, is finished.
The priced tag of the interim park is around $1 million, a small piece of the overall $120 million expected to be invested in the waterfront by the city over the next decade. Much of that will go to flood mitigation, including making shoreline improvements and replacing sewers.
Meanwhile, the historic waterfront is already seeing new additions, such as the newly opened Hotel Indigo, a boutique property that sits where a warehouse once stood. Work is also underway at another former warehouse site, this one a planned mixed development to feature retail space and condos.
It could be years before a permanent park is completed on the waterfront but anticipation is certainly building along with the development. The city has grand plans to revitalize more than a dozen city blocks in the area, made even more appealing by the planned park.
The location is only blocks away from Old Town's center, plus close to a couple of supermarkets, making it a desirable location for prospective new residents and visitors to come.