New Park Coming to NoMa
Posted by Mark Washburn on Wednesday, January 3, 2018 at 6:30 AM
By Mark Washburn / January 3, 2018
Comment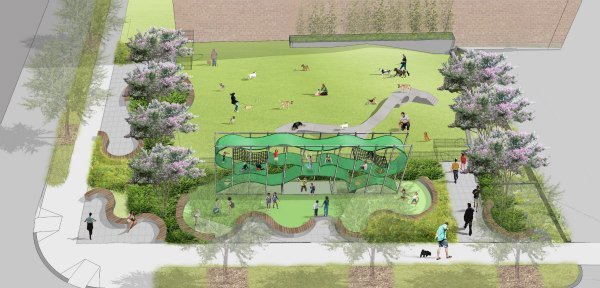 Rendering: NoMa Parks Foundation
A new park is coming to NoMa, and its name takes a nod to the past. The first park from the NoMa Business Improvement District is unofficially named "Swampoodle Park".
That's the name that garnered the most votes in a recent online survey. According to those behind the survey, the name came out on tops with about two-thirds of the 1,500 or so survey responses.
Other possibilities included calling it the 3rd and L Park or Old City Corner. The newly minted name of Swampoodle Park becomes official pending the fate of a future bill that still has to go before the DC Council and the mayor.
Swampoodle comes from a play on words dating back to the 19th century. Settled by Irish immigrants, the name is a combination of "swamp" and "puddle". That's due to the fact that the old Tiber Creek in lower NoMa often flooded during certain times of the year, creating a swamp-like area, full of puddles.
Located at Third and L streets NE, the future site of Swampoodle Park was earmarked for a new condo building until just a couple of years ago. When it went up for sale, the NoMa Parks Foundation snatched it up.
Possibly as soon as a couple of months from now, the 8,000 square foot park could be open to the public. Plans call for construction a children's play area plus making room for a dog park.
Another park, this one expected to be much larger that the Swampoodle site, is planned for Eckington. The site will also feature a dog park and a playground, plus it will include a large event lawn, with options of utilizing it for future events, such as a series of family-friendly outdoor movies during the summer season. Called NoMa Green for now, it's' expected that the public will get to vote on a name for that park, as well.