Mews-style Developments Are Popular in DC
Posted by Mark Washburn on Thursday, January 9, 2014 at 10:27 AM
By Mark Washburn / January 9, 2014
Comment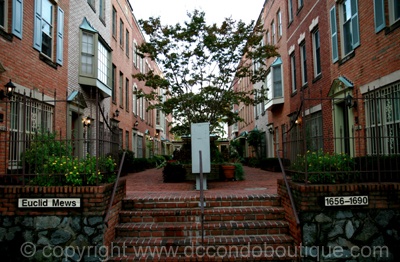 While gated communities are found throughout the DC suburbs, they are very rare in the District.  An alternative to gated communities that can be found in several neighborhoods in DC are  mews-style developments.  "Mews" is a small development of townhouse-style units clustered together and often gated.  It is a British term describing a row of carriage homes below and living quarters above, built around a paved yard or court, or along a street, usually behind large city homes.  DC's mews-style developments have proven to be quite popular with listings often selling within days of hitting the market.  Mews developments in the District include:
Decatur Mews
Decatur Mews is a 3-story development featuring 11 units located at 1725 20th Street NW between R Street and S Street in the Dupont Circle neighborhood.  It is steps away from the Dupont Circle Metro Station.
Euclid Mews
If you're interested in living in nearby Adams Morgan, then Euclid Mews is one to see.  Euclid Mews is an award-winning development on the corner of 17th Street and Euclid Street NW in Adams Morgan.  The 3-story development includes 24 roomy units with charming features, such as wood-burning fireplaces and upgraded kitchens.  Each unit includes a parking space in the garage.  The nearest Metro Station is Columbia Heights.

Hughes Mews
Hughes Mews in Foggy Bottom is a townhouse-style development within easy walking distance to the Foggy Bottom Metro Station, Georgetown, and downtown.  It is located west of the White House between 25th and 26th Streets and includes red brick paving seen on many DC and Georgetown streets.  Hughes Mews offers an historic look back at early DC alley architecture and is one of the few remaining intact alley developments in the Northwest Quadrant.

Kalorama Mews
In another elegant neighborhood in the city lies Kalorama Mews, a townhouse-style development that provides a rustic feel in an urban setting.  The 3-story development features 48 units, many having updated kitchens and fireplaces.  The closest Metro Station is Woodley Park.  Located on Biltmore Street between 19th and Columbia Road, NW, in Adams Morgan, Kalorama Mews is within walking distance of the Woodley Park Metro Station.