Meridian Hill: A Residential Enclave in the Columbia Heights
Posted by Mark Washburn on Tuesday, July 2, 2013 at 3:16 PM
By Mark Washburn / July 2, 2013
Comment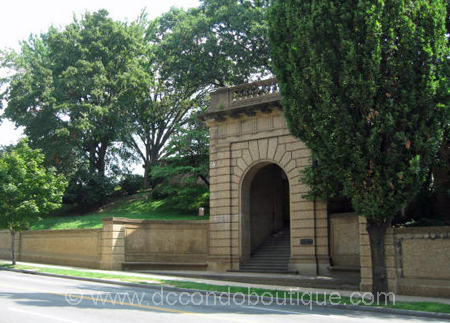 The dynamic Meridian Hill neighborhood located in the southern end Columbia Heights in Northwest DC has grown from an agricultural milieu on the outskirts of DC to an international and residential hub in the nation's capital.  A mix of people from all over the world and a booming 14th Street corridor with ethnic restaurants and local shops makes this a highly desirable place to live.  Historical buildings are mixed in with tree-lined residential streets showcasing late 19th century and early 20th century row houses, and several condo developments.

The neighborhood includes the popular Meridian Hill Park, named a National Historic Landmark, and is a part of Rock Creek Park.  The park is unofficially known as "Malcolm X Park" by some city residents and is maintained by the National Park Service.  The park is enjoyed by local residents, and continues a tradition since the 1950s on Sunday afternoons during warm weather, where people gather to dance and participate in a Drum Circle.  In addition, there is a farmers market, and an active Meridian Hill neighborhood association, whose goal is to preserve elements of the past as the neighborhood grows but also schedules many neighborhood events throughout the year.

The boundaries of the Meridian Hill neighborhood are Chapin Street to the north, 13th Street to the east, U Street to the south and 16th Street to the west.  Meridian Hill is equidistant from the Columbia Heights and U Street Metro stations.  Currently, there are 7 listings on the market, including a penthouse, townhouse and several beautifully renovated condos.  They range is size from 2-3 BR/1-3 BA/1,000-2,600 SF, priced from $400,000-$3 million.  Here is a resource to view active Meridian Hill real estate listings.  Our team at DC Condo Boutique is available to help guide you through the process of finding the best possible neighborhood and home for you.