Mayor Bowser Moving To Colonial Village
Posted by Mark Washburn on Monday, January 11, 2016 at 11:35 AM
By Mark Washburn / January 11, 2016
Comment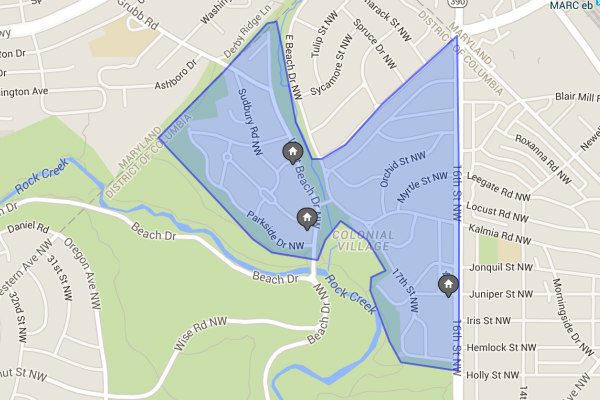 DC Mayor Muriel E. Bowser is leaving her duplex home in Riggs Park that she purchased for $125,000 in 2000, a year after taking the top position in DC, and moving to a more upscale neighborhood east of Rock Creek Park in Colonial Village, an upper Northwest neighborhood in DC surrounded by colonial-style homes with price tags around $1 million.  Colonial Village is part of a group of neighborhoods in upper Northwest along 16th Street known as the "Gold Coast."  The neighborhood features distinctive, stately brick and stone residences, and more modern ranch styles were built over the past two decades on the northern edge of Colonial Village.

The "Gold Coast" is an area in the city that has been home to many African American elite.  After the mid-20th century, both Colonial Village and the mostly Jewish neighborhood of North Portal Estates became part of what is commonly known now as the neighborhood of Shepherd Park.  Colonial Village is a residential community with old oak trees and winding hills that slopes into Rock Creek Park.  Many residents can be seen throughout the day walking their dog, jogging, or biking.  The community boundaries are 16th Street on the east, Holly Street on the south, Beach Drive on the west, and the Maryland-DC border on the north.  

DC Mayor Bowser grew up in her childhood home in North Michigan Park, a Northeast Washington working-class neighborhood with modest homes and mostly African-American residents. She later moved to Riggs Park in 2000, and bought a duplex home, with the adjoining home belonging to a family of Colombian refugees whose yard is across the fence.  A year after taking position as mayor of DC, Bowser bought the home in upscale Colonial Village.  During a public civic meeting this month, Bowser told the audience that she is moving to another home for more space.  The price of her new home has not yet been disclosed.  DC property records assessed her 1,000 square foot Riggs Park home in 2015 as $244,120; the home is located on the 500 block of Oglethorpe Street, NE.  Bowser has said she doesn't know whether she will sell her home.