Lumen Condos Coming to 14th and W
Posted by Mark Washburn on Wednesday, March 5, 2014 at 3:29 PM
By Mark Washburn / March 5, 2014
Comment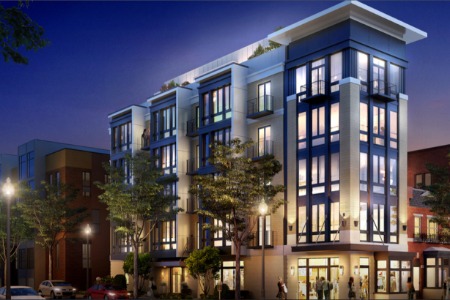 Some of Northwest DC's most coveted residential units can be found along the U Street corridor where trendsetters want to live in condos with urban-oriented design, and settle in a vibrant cultural and commercial neighborhood.  Lumen Condominiums fits the bill, and delivery is expected by the summer of 2015.  The building wraps around the corner of 14th and W Streets, NW, in a once-dilapidated area hit hard by the 1968 DC riots but now stand as a testament to community progress and a desirable place to live.

The 6-story Lumen Condominiums, by Community Three Development, in the U Street-Meridian Hill neighborhood, will offer units ranging in size from 600 to 1,400 square feet.  Complimenting the surrounding architecture of the neighborhood and blending in, the intimate boutique project featuring only 18 luxury residences will offer floor to ceiling modern interiors that fit in with the young urban professional's lifestyle.  The elegant top floor will offer a penthouse with direct elevator access and magnificent panoramic views of DC's skyline.
The 18 residences comprising the Lumen Condominiums in the middle of DC's thriving commercial and entertainment hubs will transform the corner of 14th and W Streets, NW.  On the ground floor, there are design plans for 2,200 square feet of commercial and retail properties, including restaurant space and café sidewalk seating.  Lumen Condos will help restore this high-profile 14th Street intersection in one of DC's most storied locations.  Lumen Condos is bordered by 14th Street to the east, Florida Avenue to the northwest, W Street to the south, approximately 2 blocks from 14th and U Streets and walking distance to the U Street Metro station.