Logan Circle Row Houses
Posted by Mark Washburn on Thursday, June 10, 2010 at 6:39:42 PM
By Mark Washburn / June 10, 2010
Comment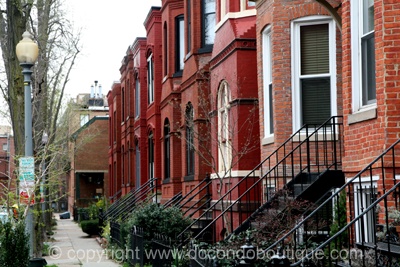 Logan Circle at the intersection of Rhode Island and Vermont Avenues and 13th and P Streets is the last surviving residential-only traffic circle in the original L'Enfant Plan. The Victorian row houses that ring Logan Circle are among the most famous and photographed in the entire district.

The post-war economic downturn and white flight in the Logan Circle neighborhood stifled investment and stalled development that would have replaced Victorian-era row houses with denser developments. As gentrification has consumed the Logan neighborhood, block after block of row houses have been brought back to life in a grand manner.
Row house architecture in Logan Circle includes Renaissance Revival, Second Empire, Richardson Romanesque and Romanesque Revival styles. Row house materials include brownstone and brick and range in height from two to five stories. A bayfront window adjacent to the front door is a common design element of many Logan row houses that creates irregular but visibly pleasing streetscapes.

While some Logan Circle row houses have been carved up into individual condos, many remain intact as single-family homes. A common renovation in these single-family structures is the conversion of the basement level into a income generating rental unit. Restored Logan Circle row house tend to sell for approximately 20% less than comparable homes in Dupont Circle. Currently, restored Logan Circle row houses are on the market in the $1M - $1.5M range. Here is a resource to view active Logan Circle row house listings.