Logan 13 Condos Under Development
Posted by Mark Washburn on Wednesday, May 20, 2015 at 9:48 PM
By Mark Washburn / May 20, 2015
Comment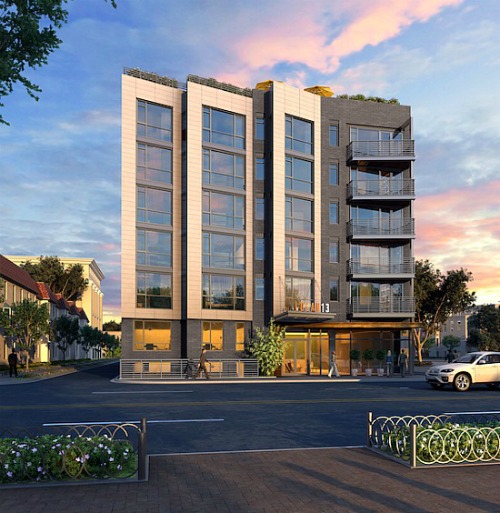 13 must be a lucky number.  Sixty-seven new condos are currently being built at 1309 13th Street, NW.  A six-story building at the corner of 13th and N Streets, NW, in the Logan neighborhood of DC will be delivered in 2016.  It is 1-½ blocks south of Logan Circle.  Studios, one and two-bedroom units ranging in size from 600-1,000 square feet will be built here at a new development known as Logan 13.  No retail is planned yet for the ground floor.  There will be underground parking for 14 spaces, and 13 surface parking spaces.

It's a good time to buy a condo for people who want to live closer in, who don't want to sit in hours of commuting traffic, and who want to enjoy the vibrancy of downtown DC.  Prospective buyers who want to buy condos are both young professionals and empty nesters alike.  Local real estate development company Holladay Corporation, known for its residential and mixed-use projects, is developing Logan 13.  This project is currently in the pre-construction planning stage and permitting phase; therefore there is no pricing information, amenities or floor plans as of this writing.

The project will replace Mr. Wash carwash, Mr. Chan, a Chinese carryout restaurant and a parking garage at 1309-1313 13th Street, NW.  Properties at 1309, 1311 and 1313 13th Street, NW, were all razed, in anticipation for the project, whose address will be 1311 13th Street, NW.  The project will be delivered in Fall of 2016, and was designed by architect Eric Colbert.  There will be 5 inclusionary zoning units, and the remainder selling at marketplace rates, as well as 27 total parking spaces, and 26 bicycle spots.  Prices are expected to start in the $300,000s for studios, and 2-bedrooms are expected to start in the $500,000s.  However, this is based on talk in the real estate community.  Logan 13 will be strictly residential.  Developer Holladay Corporation's other projects have included Capitol Hill's Car Barn with 196 units, and The Matrix, with 40 units, located at 1529 14th Street, NW.