Living in a Woonerf-Style Street
Posted by Mark Washburn on Friday, March 19, 2021 at 11:08 AM
By Mark Washburn / March 19, 2021
Comment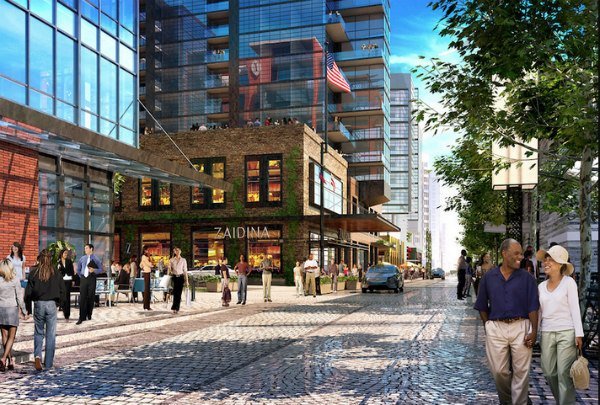 Perhaps more popular in some European cities, a woonerf-style street in the Eckington neighborhood is starting to grab more and more attention. Essentially, this type of street is called a "living street".
While normally streets are designed for automobiles here in the US, a woonerf-style street commonly gives equal priority to vehicles, pedestrians and bicycles. That's what makes the idea so unique in Northeast Washington.
A new redevelopment aims to transform several acres in the area into a mixed-use retail and residential area. The new Eckington Yards development is bringing a new condo building, two apartment buildings and townhouse-style condos to the Eckington neighborhood.
A new street running between the four new buildings is being designed as a retail corridor. It's available to both pedestrians and slow-moving traffic. The shared street, in turn, opens up access to a variety of retail options, including Union Kitchen and Brooklyn Boulders.
That's just one thing that sets this development apartment. The new condo building called 1625 Eckington includes two floors of restaurants and shops itself, and it's topped off by residential units.
The building also offers a rooftop clubroom with views of the National Cathedral, the Washington Monument, Downtown DC and the Capitol. In addition, you'll find a rooftop swimming pool, a café, a fitness center and a rooftop grilling station. The lobby offers a full-time concierge.
You'll also find some garage parking for an additional fee, as well as some bicycle storage. The condos come with high ceilings, hardwoods and quartz countertops.
Starting at around 500 square feet of living space, some of the largest floor plans command upwards of 1,300 square feet. The condos come with either one- or two-bedrooms plus a den and up to two-baths.
Not far away is Alethia Tanner Park, with green space, gardens, a dog park and a playground. The location is also within walking distance of Gallaudet University and within walking distance of the closest Metro station.