Lincoln Park: A Capitol Hill Treasure
Posted by Mark Washburn on Monday, March 2, 2015 at 10:13 AM
By Mark Washburn / March 2, 2015
Comment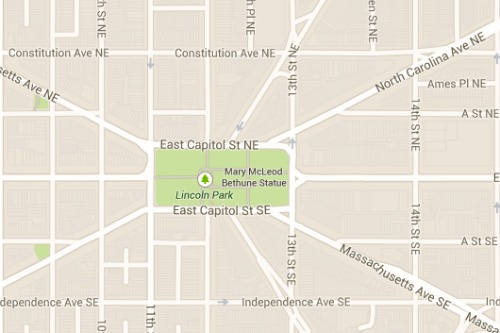 One mile from the U.S. Capitol is a quaint neighborhood with brownstones, restored townhomes and a place where neighbors meet in the park to talk while their children play on the playground or dog owners chat with each other while their pooches run around and get some exercise.  It's a wonderful neighborhood popular with residents of DC called Lincoln Park.  The urban park is located in this Capitol Hill neighborhood bounded by 11th Street NE and SE on the west, 13th Street NE and SE on the east, East Capitol NE on the north, and East Capitol SE on the south.  It is 4 blocks northeast of Eastern Market, the robust farmers market and crafts' vendors, as well as indie coffee shops and bookstores.

Lincoln Park isn't just a name; it's an actual park.  It has two enclosed play areas for children and parents meet up with their neighbors here while their children play; older kids play football in the wide open space; and it has a grassy area popular with residents and their dogs where dog owners sip coffee and exchange neighborhood news.  In the summer, it's not uncommon to find sunbathers and book readers on blankets in the grass.  The park, while maintained by the National Park Service, feels like it belongs to its neighbors.  It's a shared neighborhood space, and the neighborhood is centered around it.  Many joggers run a route through Capitol Hill and pass this area on their way.

During the Civil War, Lincoln Park was the site of Lincoln Hospital, named after the President and was visited by poet Walt Whitman, who came here to visit and comfort the injured and dying soldiers.  In 1867, Congress authorized it to be called Lincoln Square as a memorial to Lincoln, the first site to have his name.  Here too stands the 1876 Emancipation Memorial showing the chains of slavery as President Abraham Lincoln offers the Emancipation Proclamation.  It is also the site of the Mary McLeod Bethune Memorial, DC's first statue of a black woman.  It honors this educator who is also the founder of the National Council of Negro Women.  Nearby is the Car Barn, DC's 19th century trolley turnaround which lives on as a popular condo development.
Capitol Hill Real Estate Near Lincoln Park
Related Links
Real Estate For Sale Near Lincoln Park