Leeway is a Cozy Arlington Neighborhood
Posted by Mark Washburn on Wednesday, July 5, 2023 at 7:54:51 AM
By Mark Washburn / July 5, 2023
Comment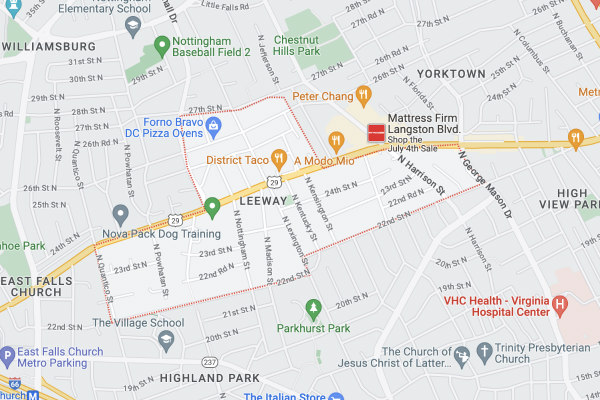 For the coziness of its small town-like setting, and the advantage of nearby, urban amenities, Arlington's Leeway neighborhood oftentimes ticks off all the boxes for prospective homebuyers. Even though Lee Highway runs through the neighborhood, it's still suburban in many ways.
Most of the properties in this part of Arlington tend to be detached, single-family homes, which sets it apart from some other neighborhoods in Arlington. You won't find many multi-family properties to choose from in Leeway.
In total, there are around 350 homes that make up the neighborhood, many of which were built between the mid 1930s to mid 1950s. You'll find a range of home styles too, including Craftsman-style homes, Colonial Revivals, Cape Cods, farmhouse-style homes, and even some brick Ramblers.
Home prices have been on the rise in Leeway in recent years, and home values tend to be relatively strong, which is something that draws buyers to the neighborhood, plus homes in the neighborhood oftentimes don't sit on the market very long. It also tends to be a relatively quiet neighborhood, with tree-lined streets, yet it remains close enough to some of Arlington's urban villages, too.
Sometimes, Leeway is banded together with Tara, another local neighborhood, and referred jointly as Tara-Leeway Heights. The two share a civic organization. Leeway Overlee is also a recognized National Historic District today.
The neighborhood of Leeway also means living close to the Lee Heights Shops, which means some nearby shops and restaurants to choose from. You'll find the Leeway neighborhood close to the western edge of the Ballston-Rosslyn Corridor.
While there's no Metro stop specifically for those living in Leeway, homes in the neighborhood do sit close enough to the East Falls Church Metro Station for added convenience when it comes to an easier time commuting around the rest of the DC area.
Search Arlington by Neighborhood