Klingle Valley Trail Now Open
Posted by Mark Washburn on Wednesday, July 19, 2017 at 6:31 AM
By Mark Washburn / July 19, 2017
Comment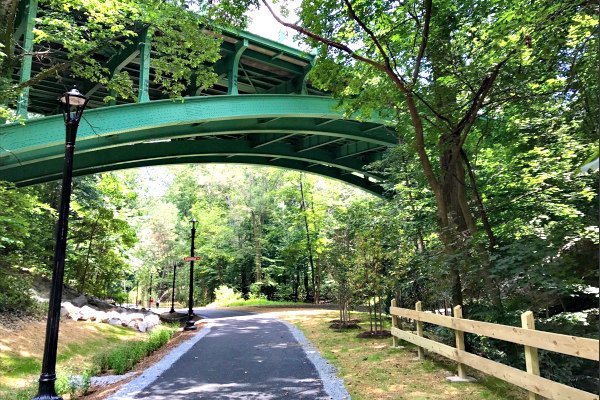 It's taken more than a quarter of a century, but the Klingle Valley Trail is now open, giving people a new option to replace the long ago closed stretch of Klingle Road NW. Not even a mile in length, the old stretch of roadway, running from Cleveland Park to Mount Pleasant through Rock Creek Park was prone to drainage and maintenance problems, eventually closed to traffic when a storm washed out a large section of it in the early 1990s.
Political leaders, environmentalists and locals then debated the best way to fix the problem for well more than two decades. While at one time more than an estimated 3,000 vehicles drove Klingle Road, the debate raged for years on how to best serve the public and the environment in the future.
Eventually, crews came up with a final design for the project in 2014 and construction began on replacing the old road with a new asphalt trail in 2015. This involved the realignment of some utility lines, tearing up of the remainder of Klingle Road and forming a new trail that no longer risked being swept away during future storms.
The new $6 million trail project also included installing new infrastructure designed to help keep storm-water runoff in check as well as new landscaping, lighting, benches, fencing and signage. There's also a new sidewalk in place and the project included restoring Klingle Creek.
Now running alongside the old Klingle Road NW, the trail later connects up with the Rock Creek Park Multi-Use Trail. Leading through a wooded valley, the recreational trail is ideal for biking, jogging, walking or skating. Pets are welcome on a leash, and everyone is encouraged to keep the new trail clean of trash and waste, providing the public with a new and improved outlet for outdoor recreation.