Kingman Park - One of DC's Newer Historic Districts
Posted by Mark Washburn on Monday, November 16, 2020 at 2:45 PM
By Mark Washburn / November 16, 2020
Comment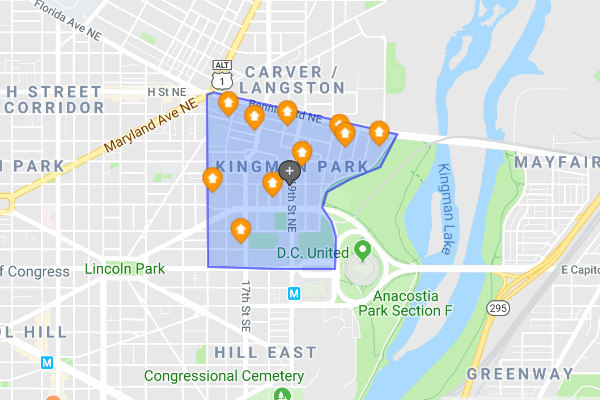 It may be small in size, but the Kingman Park neighborhood is packed with history. As one of DC's newer historic districts, Kingman Park just received the official designation a couple of years ago.
It took years of debate before that happened. First settled in the 1920s as a primarily middle class, African American neighborhood, the majority of homes and buildings in Kingman Park were built up from the 1920s through the 1940s.
Kingman Park if filled with brick rowhomes today, a majority of which are in the Federal style. While housing prices have increased in recent years, keeping in line with development of the new streetcar line, the neighborhood has still remained somewhat more affordable than other nearby neighborhoods.
While some of the homes of Kingman Park have already been renovated, you may also find some less expensive homes in the neighborhood in need of repairs. That's where some of the debate over the historic district designation came into play.
While some felt it was long overdue, others were concerned about putting more restrictions on renovations, and thereby driving out some long-term residents. After all, a designated historic district means official regulations regarding things like permitting and home renovation.
The now historic district offers homes and nearby access to several sites and attractions in the DC area. While coffee shops and restaurants in Capitol Hill are certainly close to Kingman Park, so is nearby H Street with its vibrant nightlife.
It's easy to explore the city's natural side with the Kingman and Heritage Islands, as well. This natural refuge offers space for fishing, birding, biking and hiking. You can reach Kingman Island via a footbridge found close to the old RFK stadium parking lot.
It's not the only nearby attraction. Popular Eastern Market is within walking distance of Kingman Park, while it's also easy enough to make a stop in Lincoln Park. Close enough to a Metro Station and with multiple bus lines for convenience too, you'll find Kingman Park to the east of Capitol Hill in DC's northeast quadrant.