Kingman Park: On the Rise
Posted by Mark Washburn on Wednesday, May 30, 2018 at 9:31 AM
By Mark Washburn / May 30, 2018
1 Comment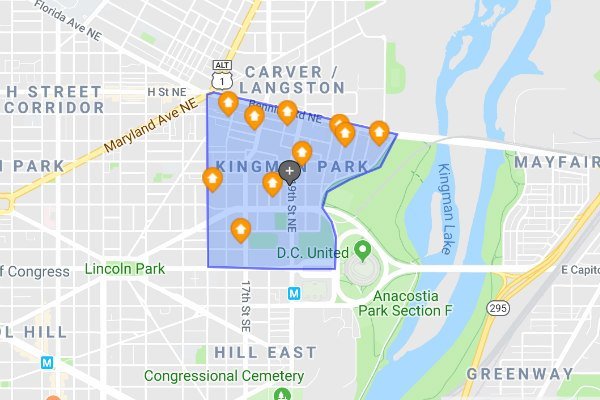 A true hidden jewel of DC, the Kingman Park neighborhood offers historic properties and an active group of local residents. Mostly comprised of 1920s-era rowhouses and condos, Kingman Park was once marketed as a mostly African American community, but over the years has become more diverse.
What hasn't changed, though, is the continued effort of locals to stand up to developers over the years, helping to maintain some of the historic charm of the original neighborhood. A thriving community by the 1930s, Kingman Park was already home by then to hundreds of residences and some newly constructed schools.
Over the decades, though, developers eyed the location for even more, including things like a new Metro station, an expanded freeway, a theme park and a new football stadium. Bitterly opposed by area residents concerned about things like additional traffic and noise in their neighborhood, opponents were able to successfully protest many new additions to the community of Kingman Park over the years and decades.
In more recent years, some residents of Kingman Park also battled against things like bringing car racing to the area, and even the construction of a new boarding school. Recently, too, some neighbors came out against an effort to make Kingman Park into a historic district, something voted for by the DC Historic Preservation Review Board. Concerns from neighbors included the potential of it resulting in less affordable housing in the area.
At the root of it all, perhaps though, is the dedication of area residents to maintain the neighborhood's longstanding history and uniqueness in the DC area. Filled with shops, restaurants, grocery stores and a collection of older homes and properties, Kingman Park offers up a close-knit community of homeowners even today. This is likely why many families are choosing to stay, or move into, this hidden jewel neighborhood of DC.