Kent: Serenity and the Occasional Bauhaus-style Home
Posted by Mark Washburn on Tuesday, May 26, 2020 at 6:29 PM
By Mark Washburn / May 26, 2020
Comment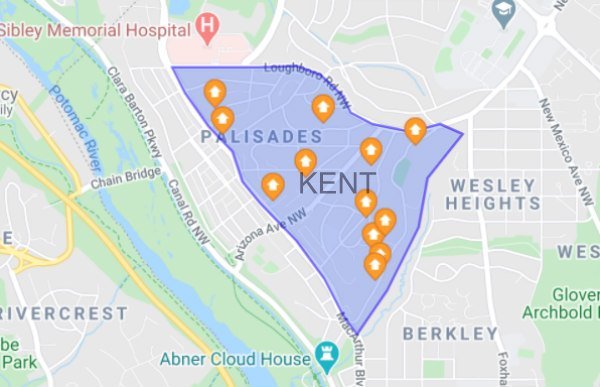 Filled with parks, trails and a peaceful atmosphere, Kent offers a sense of serenity on the northwestern edge of DC. Partially bordered by Battery Kemble Park, the neighborhood is a favorite for those who like to get out and enjoy nature, whether on a hike through the park or on a stroll with four-legged family members.
Mostly developed in the 1930s and 1940s, Kent is the place to find large colonials on even larger lots, especially on the hilly western side of the neighborhood. You'll also, however, find some more recent construction, particularly on Kent's eastern side.
The more eclectic eastern side of Kent is where you'll additionally find some 19th century bungalows and the occasional Bauhaus-style home. In particular, there are a couple of homes built by the Hechinger family in the mid-century.
The homes were designed by modernist and Bauhaus school founder Walter Gropius. He's considered to one of the pioneers of modern architecture.
Constructed side-by-side on Chain Bridge Road, one house formerly belonged to John Hechinger, while a home on an adjoining lot belonged to Hechinger's sister. Both homes were designed to reflect Bauhaus-style points, including walls of glass, minimalist design elements, smooth surfaces and a harmonious, rectangular shape.
In recent years, the Hechinger House went on the market for the very first time. The six-bedroom, six-bath home sits on a 1.25-acre lot, also including a terrace, swimming pool and tennis court.
While definitely unique, the homes are just a part of Kent. Many people are drawn to the neighborhood for its peaceful atmosphere and its convenience.
While you won't find any commercial businesses or Metro stops in Kent, the neighborhood does have a Capital Bikeshare station. It also has bus routes leading to Georgetown and Dupont Circle, and American University is within walking distance of many of the homes.