Kellyanne Conway Buys in Massachusetts Avenue Heights
Posted by Mark Washburn on Monday, June 12, 2017 at 11:20 AM
By Mark Washburn / June 12, 2017
Comment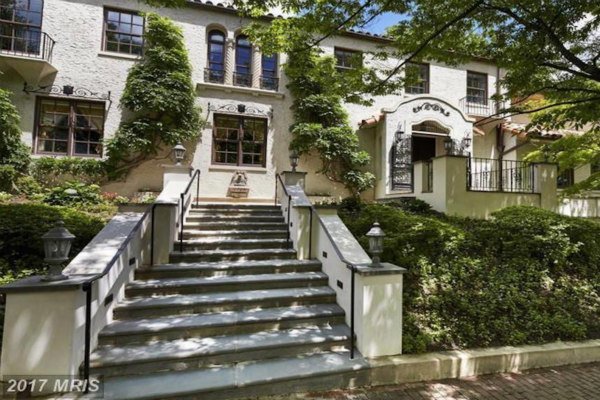 One of President Trump's most recognizable advisors now joins the ranks of those owning a home in exclusive Massachusetts Avenue Heights. Known for making headlines in the past, Kellyanne Conway just made headlines again, this time for reportedly purchasing a $7.785 million dollar home with her husband for well below the original asking price.
Although the terms of the sale are confidential, some reports link it officially to Antoinette Associates LLC. At least one publication reports that is indeed Conway referencing the name of her maternal grandmother.
On and off the market for years, the upscale home was reportedly once listed for $22 million, later revised to $18 million, then $12 million and finally $8 million. According to a 2016 report, the property is assessed at around $10.7 million.
With eight-bedrooms, 10 full-baths and three half-baths, the home was most recently renovated in 2001. Other features of the home include a separate family and catering kitchen, a large library, an elevator and a pool cabana. The four-level home also offers an in-ground swimming pool, three fireplaces and sits on more than a half-acre of private property.
Constructed in 1927, the spacious, Mediterranean-style home offers more than 11,000 square feet of living space. It also includes staff quarters, a wet bar and a wine cellar. Until now, Conway had been renting in the DC area while her children finished out school.
The former campaign manager and current presidential counselor joins an exclusive neighborhood of some of DC's most influential residents. Current Commerce Secretary Wilbur Ross resides a short distance away, as does Treasury Secretary Steven Mnuchin. In addition, rival presidential candidate Hillary Clinton lives within a half-mile of Conway's new home. Massachusetts Avenue Heights is also home to a number of foreign embassies. Pakistan's former acting prime minister once owned the newly purchased home.