Jefferson Place: A Quiet Street Near Dupont Circle
Posted by Mark Washburn on Thursday, September 6, 2012 at 1:08:46 PM
By Mark Washburn / September 6, 2012
Comment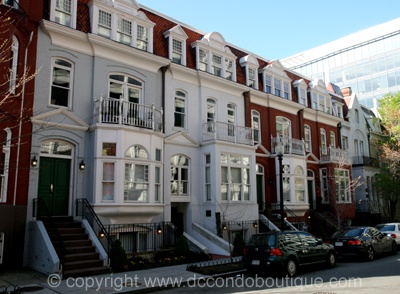 While DC is often defined by its famous wide avenues and streets like Pennsylvania, M and 14th, its the quiet residential side streets that provide the District its true soul. Nearly every DC neighborhood has a soulful side street including Church Street and Swann Street in Logan Circle, Tracy Place in Kalorama and Duddington Place and Walter Street on the Hill.  The Dupont Circle Neighborhood is home to several soulful side streets including Hillyer Place, Newport Place and Jefferson Place.

Jefferson Place runs just one block between that funky Connecticut Avenue/18th Street intersection and 19th Street.  Traffic runs one way from Connecticut/18th to 19th and street parking is allowed on both sides of the street.  There are plenty of places in close proximity to eat and socialize including the Palm, Giovanni's Trattu, the Public Bar, Lucky Bar, Sign of the Whale, Shake Shack and Chipolte Mexican Grill to name a few.

The south side of Jefferson Place is home to majestic row houses and the Jefferson Row condo development.  Jefferson Row combines historic DC row house facades with 23 modern luxury condos.  Developer finishes at Jefferson Row are top notch including Viking Appliances and travertine baths.

If you are interested in learning more about Jefferson Place, here is a resource to view active Jefferson Place real estate listings.