Is the Georgetown to Rosslyn Gondola Coming?
Posted by Mark Washburn on Friday, January 4, 2019 at 2:50 PM
By Mark Washburn / January 4, 2019
Comment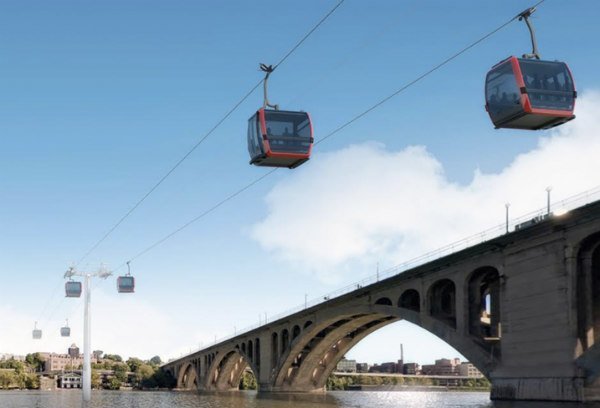 Graphic: ZGF Architects/Georgetown BID
Supporters of bringing a gondola to the DC area are once again bringing up the plan, hoping to someday make it reality. Some area business leaders and those with political ties believe its still a good idea, years after the plan first came to public light.
Initiated five years ago as part of its 15-year strategic plan, the Georgetown Business Improvement District proposed the gondola to connect Georgetown to Rosslyn. Georgetown doesn't have a Metro, and proponents believe a gondola could not only be built faster, but with a much smaller price tag than other transportation solutions.
Just two years ago, a study took a closer look at the plan, maintaining the gondola was a feasible proposal. Stretching across the Potomac River, the gondola ride would only take about four minutes between the two stations, traveling at around 12-miles per hour. That's significantly less time than it currently takes to walk, drive or take a bus over the Bridge.
Thousands of people live and work in Georgetown, but many use private vehicles to get back and forth. Proponents of the gondola believe it could help lower air pollution and help with congestion in the area. That's based on the 6,500 or so people a day that the study predicts would likely ride the gondola.
As of now, nothing is finalized on construction of a gondola, but project planners are envisioning a public-private partnership, bringing in private funds as well as city, state and federal money. The plan still needs approval from several review agencies.
If all goes forward, planners estimate the entire project to cost anywhere from $90 to $110 million to construct, and then more than $3 million each year to operate. The goal is to make the gondola a part of the Metro fare system, likely around $2 or so for a one-way trip.