Hungry For a DC Co-op?
Posted by Mark Washburn on Friday, January 22, 2010 at 11:51 AM
By Mark Washburn / January 22, 2010
Comment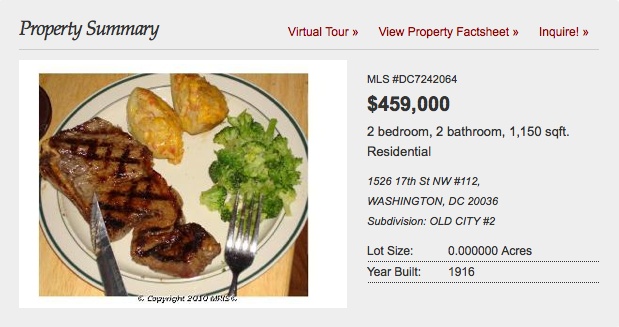 In a city obsessed with fitness and shopping for healthy food at the Eastern Market and Whole Foods, marketing a co-op with a photo of a sirloin steak dinner is definitely a head scratcher. Maybe this approach would work well in traditionally carnivorous markets like Dallas or Austin, but wouldn't this 17th Street seller be better served by a humous and tabouli spread?
After spending way too much time contemplating the marketing plan associated with this listing, my theory is that this Cavanaugh Court co-op was last listed in late 2000 or early 2001 and this is a photo leftover from the previous listing. As you recall, George W Bush took office in January of 2001 and brought a team of Texans with him to DC. Is there a better way to attract a freshly relocated Texan to your co-op listing than a steak dinner.......brilliant!