Historic Foggy Bottom Alleys
Posted by Mark Washburn on Friday, June 18, 2010 at 9:00 AM
By Mark Washburn / June 18, 2010
Comment
Snow's Court + Hughes Mews Alley Dwellings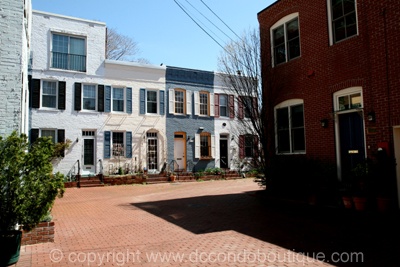 Tucked away in Foggy Bottom just nine blocks from the White House are the historic Hughes Mews and Snow's Court alleys. These alleys feature charming row houses originally built in the late 19th century to accommodate the growing industrial workforce of Foggy Bottom.

Alley life in the 19th century was thought to be challenging with multiple families living in a single row house dwelling. In a project for the Historic Preservation Program at the University of Pennsylvania, School of Design, Eldra D. Walker provides an informative overview of late 19th century alley living conditions. Today, these alley homes have been restored to single-family homes and offer a unique urban experience.

Hughes News is located between 25th and 26th Streets and K and I Streets and Snow's Court is located between 24th and 25th Streets and K and I Streets in Foggy Bottom.

Currently, there are two homes available for sale on Hughes Mews, a 2BR / 1BA 700 SF row house listed for $534,000 and a 3BR / 3BA 1,800 SF contemporary home listed for $1.895M. No homes are currently for sale on Snow's Court.