Hillside Residences New Construction in Georgetown Adds Stability to Hills
Posted by Mark Washburn on Saturday, March 12, 2022 at 8:05 AM
By Mark Washburn / March 12, 2022
Comment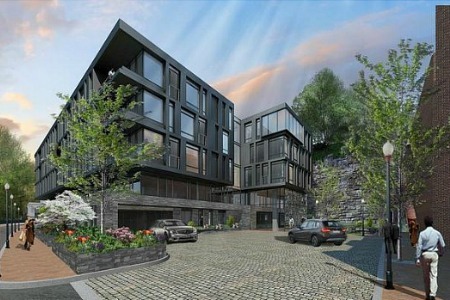 A new condo property in Georgetown promises not only the allure of new construction possibilities, but it's also expected to bring some structural stability to the hillside, itself. The site for the planned new development is 3601 M Street NW in Washington.
A few months ago, the developer submitted plans to construct a five-story building, dubbed Hillside Residences. As part of the site's development, construction crews will be helping to shore up the surrounding hillside.
Made up of just 21 units, most of the property's condos are expected to vary greatly in size. While some of the smallest units still command an impressive 1,200 square feet of living space, some of the largest units in the building surpass 4,300 square feet of space.
Buyers have their choice of a one-bedroom, two-bedroom or three-bedroom condo. The property will also include two levels of below-grade parking.
In addition, other planned shared amenities at Hillside Residences include a rooftop swimming pool and deck and some lounge areas. There will also be a fitness room with a yoga studio and a shared wine cellar, as well as a 24-hour doorman and some private elevator access and storage facilities.
The new property is currently in its preconstruction phase. It sits close to Georgetown's Key Bridge and, for movie buffs, close to the staircase made famous in the film, 'The Exorcist'.
The planned development has been a work in progress for some time. The builder is Altus Realty Partners and Handel Architects is designing the new building.
Located in Arlington, Altus describes itself as a full-service real estate development and investment company. Its projects include residential, retail, office and commercial space.
Handel is an award-winning architectural firm with offices in New York City, Boston, San Francisco and Hong Kong. Handel boasts a portfolio consisting of tens of thousands of residential units, as well as numerous other projects around the world.