Helicopter Factory Selling in Pleasant Plains
Posted by Mark Washburn on Monday, October 24, 2016 at 1:13 PM
By Mark Washburn / October 24, 2016
Comment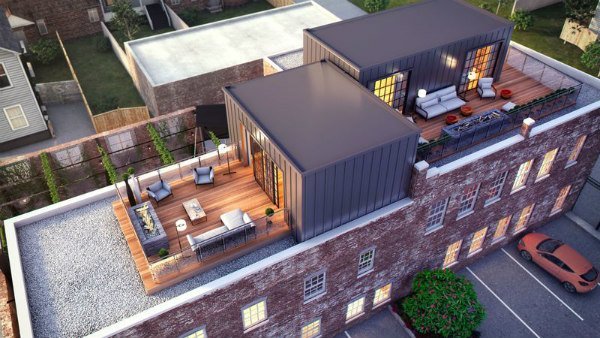 Once home to an early 20th century factory that made some of the world's earliest helicopters, a prime DC location has been transformed into luxury condominiums, now selling in Pleasant Plains. This unique residential development was formed by combining three old warehouses into one, now appropriately named the Helicopter Factory.
The combined warehouses distinctly offer your choice of 15 units, one of which is an admirable 5,100 square feet of living space, complete with a rooftop deck. Another of the warehouses has been transformed into a unit measuring 2,500 square feet while the remaining homes were constructed where a parking lot once existed with loft-style floor plans complete with industrial style-features and finishes. Those homes each offer 1,200 to 1,700 square feet of living space. Meanwhile, the final warehouse of the trio has been transformed into a landscaped courtyard to complete the development.
While the smaller units of the Helicopter Factory include one- to two-bedrooms plus a den and up to two-baths, they come in two- and three-story designs. The two large warehouse units, meanwhile, offer three- to four-bedrooms plus a den and up to four-baths and private outdoor living space. Expect to find such coveted features as hardwood flooring, exposed red brick walls, massive walk-in closets and designer finishes. Other common elements include the soaring ceilings and industrial-style features, combining a sense of old tradition with new, more modern conveniences for those in search of a new construction luxury condo in the DC area.
Just one block from Howard University and a short distance from a nearby Metro station and shopping, Helicopter Factory exists within one of DC's trendiest neighborhoods, with plenty of cultural attractions easily within reach. Located right between Shaw and Columbia Heights, this prime location is also close to plenty of dining establishments, theatres and nightlife plus other popular locations and destinations in the Washington area.
Here is a resource to learn more about The Helicopter Factory real estate options.