Helicopter Factory Draws Inspiration from Iconic Inventor
Posted by Mark Washburn on Friday, January 21, 2022 at 6:35 AM
By Mark Washburn / January 21, 2022
Comment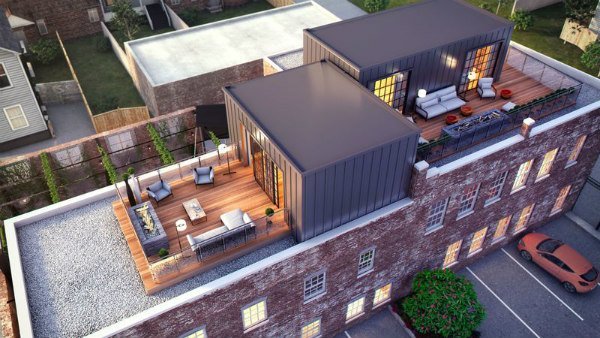 A new unique option in Columbia Heights draws its inspiration from an iconic inventor. The Helicopter Factory was first constructed around the early 1900s as an actual warehouse for early helicopter engines.
German inventor Emile Berliner was the man behind the warehouse. For more than two decades the site was tied to Berliner's Gyro Motor Company, which helped produce the Gyro Copter, which is considered one of the earliest helicopters in the world.
Recently crews reinvented his old warehouse, converting it into a condominium property. As part of that, they were able to add new luxury features, while preserving some of the original elements and charm of the old warehouse setting.
These days, The Helicopter Factory is home to large lofts with heavy beams, wood ceilings and exposed interior brick walls. Buyers can choose from two-story lofts or flats. Because the building only houses 15 units in total, the condos tend to be large in size.
The majority of them range from around 1,300 to 2,800 square feet of living space. The condos are outfitted with such desirable features and finishes as wide-plank hardwood floors, gas fireplaces, premium appliances and floating staircases.
As well, you'll find some sliding barn doors and some fixtures which are vintage reproductions. In addition, the condos come with some traditional loft-style features, such as oversized windows, high ceilings and open floorplans.
The property includes the opportunity for some off-street parking. The Helicopter Factory sits in Columbia Heights, close to Howard University and within walking distance of the closest Metro station.
It's also conveniently close to several cafes, coffee shops and bars lining Georgia Avenue. In addition, the restaurants, shops and entertainment venues of U Street, 14th Street and 11th Street are not far from the condos, plus the neighborhood boasts a nearby Whole Foods Market.
Search Columbia Heights Condo Developments