Hawthorne: Tranquil Neighborhood That's a Walk in the Park
Posted by Mark Washburn on Wednesday, November 11, 2020 at 11:08 AM
By Mark Washburn / November 11, 2020
Comment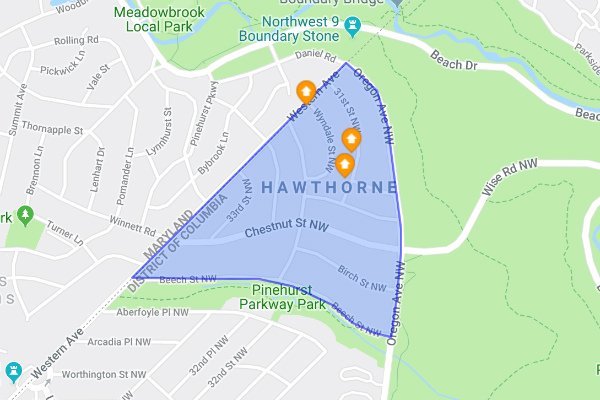 Like taking a walk in the park, the tranquil neighborhood of Hawthorne offers an idyllic setting with mature trees and plenty of surrounding green space. Reportedly named for a type of tree that once grew all over the neighborhood, the majority of Hawthorne today is entirely residential.
While you won't find much in the way of commercial offerings, you will find the appeal of a suburban community with large lots and a park-like setting. Of course, sharing a border with Rock Creek Park certainly doesn't hurt.
The convenient location makes it possible to simply walk out your door and be surrounded by wooded parkland in just minutes. At the same time, the walkable, tree-lined neighborhood is merely 10 to 15 minutes from downtown.
Of course, living in Hawthorne also puts you close enough to area grocery stores, bars, restaurants and shops, especially those along Wisconsin Avenue and Connecticut Avenue. At the same time, however, living in Hawthorne sometimes feels a world away.
The Hawthorne neighborhood was first developed in the 1940s, with typical suburban big lots, wide roads and no sidewalks. While the addition of sidewalks has been a source of contention, especially in more recent years, the neighborhood has stayed a friendly, residential community.
It's the kind of neighborhood where it's not unusual to find an annual block party or a neighborhood barbecue. It's also common for neighbors to host card games as well as holiday-themed events.
While a majority of Downtown Washington and its surrounding neighborhoods are filled with colorful rowhomes, the Hawthorne neighborhood definitely offers more of a suburban feel with large split-level homes, Colonials, Cape Cods and ramblers. Part of Northwest Washington, the lots in Hawthorne are also larger than the rest of Chevy Chase, giving residents the option for enjoying a spacious yard or even room to tack on some home additions.