Hawthorne Offers Parks and More
Posted by Mark Washburn on Friday, August 16, 2019 at 12:27 PM
By Mark Washburn / August 16, 2019
Comment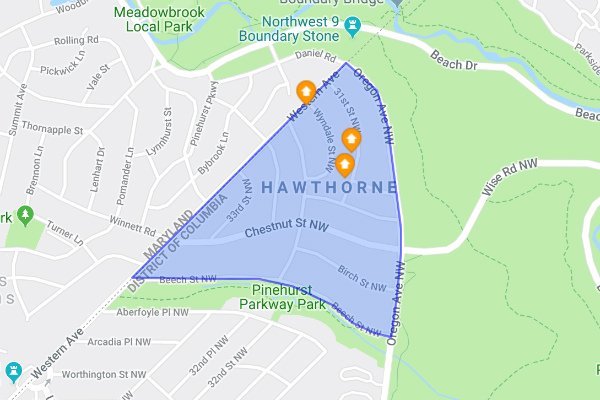 Filled with parks and more, the quiet residential neighborhood of Hawthorne offers a desirable setting for those searching for a new place to call home in Northwest DC. Bounded by Rock Creek Park on two of its sides, the neighborhood provides easy access to paved trails for outdoor recreation, plus many of the homeowners additionally enjoy the privacy of wooded views.
In fact, the name itself pays tribute to the Washington Hawthorn tree. Despite its inner tranquility, the neighborhood is also convenient enough to Downtown DC. The Hawthorne neighborhood sits only about 10 to 15 minutes away from downtown yet is able to retain the appeal of a small community.
The neighborhood routinely hosts community events, such as the annual Hawthorne Block Party. Neighbors in the close-knit community also get together for monthly card games and other social events.
Made up of around 250 single-family, detached homes, you'll find most homes in Hawthorne were constructed around the mid-century mark. This means a mix of split-level homes, ramblers and Colonial-style homes, all of which sit on large lots. This makes it possible to find a variety of homes styles within the neighborhood of Hawthorne.
While it's possible to find homes around the $700,000 range, you'll also find some homes easily topping $1 million. While not as high as some of DC's priciest neighborhoods, it still puts Hathorne on the list of one of area's most expensive for DC homebuyers. It's common for prospective buyers to pay full listing price, or even more, for homes in Hawthorne.
One look at the well-kept neighborhood and it's easy to see why. While the homes of Hawthorne may be older than some, many of them have been remodeled and even expanded over the years, bringing in new and more modern additions to the residences while retaining the charming architecture of more than a half-century ago.