Harry Wardman Left A Legacy For DC
Posted by Mark Washburn on Monday, December 16, 2013 at 3:36 PM
By Mark Washburn / December 16, 2013
Comment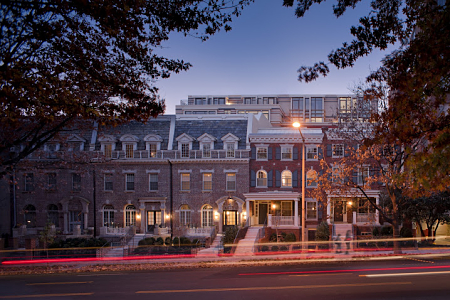 Harry Wardman was one of the most influential real estate developers in DC during the early 20th century. He is responsible for developing many neighborhoods in Northwest DC encompassing an architectural style seen in row houses in Columbia Heights to luxury apartment buildings in Dupont Circle. The ubiquitous "front-porch row house" style is a signature Wardman design feature. That was a new design element that can be seen throughout Columbia Heights along the 900 block of Longfellow Street.

Wardman is the face behind a few thousand row houses in Northwest DC neighborhoods, including Bloomingdale, Brightwood, 16th Street Heights and Petworth. His homes are well known for their high-quality construction and materials. Wardman also developed several "row house flats" in the Bloomingdale neighborhood---2-story buildings with two identical units in them, one above the other. In a bid toward building grander homes, Wardman developed hundreds of semi-detached and detached homes in the Brightwood neighborhood of DC, all with covered porches and big yards. This was a big step for Wardman, now developing single-family homes and moving into pricier neighborhoods like Cleveland Park, Kalorama and Woodley Park.

Wardman also built several large luxury apartment dwellings throughout DC including The Dresden on Connecticut Avenue, NW and The Northumberland, an elegant building south of Meridian Hill Park. The Dresden is a Georgian-revival design notable for its rounded façade, whereas the Northumberland is in a Classical design style. Two landmark hotels in DC bear Wardman's signature style, The Hay-Adams adjacent to the White House, and the Marriott Wardman Park. The Hay-Adams, a 125-room hotel, is ornately designed in an Italian Renaissance style, and visited by both international dignitaries as well as DC elite. In fact, the Obama family lived in the hotel prior to President Obama's inauguration. The Marriott Wardman Park, located at 2600 Woodley Road NW is immense with over 1,300 hotel rooms---making it the largest hotel in DC. When Wardman died in 1938, one-tenth of DC residents were estimated to live in a Wardman-built home.