Georgetown Real Estate Market Update
Posted by Mark Washburn on Saturday, January 26, 2013 at 10:01 AM
By Mark Washburn / January 26, 2013
Comment
The upscale Georgetown real estate market continued to show significant strength in 2012 with 208 closed residential transactions.  The total value of the 2012 Georgetown residential transactions was $278.5M, down from 292.8M in 2011.  The average sales price in 2012 in Georgetown was $1,339,336 and on average property sold for 95% of asking price.  The average days on the market for Georgetown listings was 57 days in 2012, down from 76 in 2011.  It is important to note that a single transaction in 2011 for $22M impacted average selling price and total volume.
Here is a summary of key metrics for the Georgetown market in 2012 vs. 2011: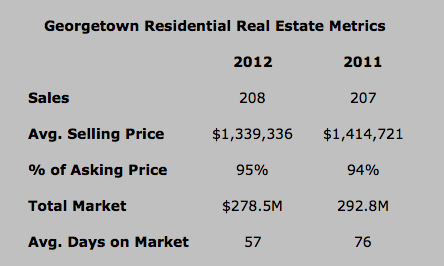 The most expensive property to sell in Georgetown in 2011 was the Halcyon House, a historically designated mansion with over 30,000 SF and Potomac River views located at 3400-3410 Prospect Street.  The Halcyon House sold in March for $11M, which was 88% of the asking price.  The most expensive condo to sell in Georgetown in 2012 was penthouse unit located at 3303 Water featuring 7 BR / 7 BA / 6,621 SF which sold for $6.5M ($982/SF).  This condo was sold for 100% of the asking price.
The DC Condo Boutique Team is proud of our affiliation with TTR Sotheby's International Realty who represented buyers or sellers in 72 Georgetown transactions in 2012, which was 35% of all Georgetown deals.  If you are interested in exploring property ownership in Georgetown, our team is available to provide information-rich, low-pressure assistance with your transaction.  Here is a resource to get acquainted with the Georgetown real estate market.