Georgetown Park Residences : Make Wisconsin & M Home
Posted by Mark Washburn on Wednesday, November 9, 2011 at 1:37:29 PM
By Mark Washburn / November 9, 2011
1 Comment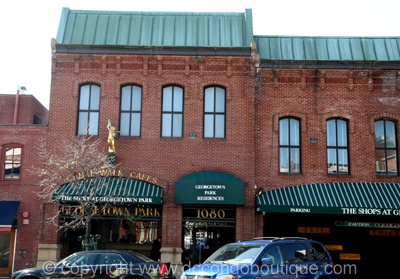 Hollywood & Vine….Market & Powell….Michigan & Wacker….Broadway, 42nd & Seventh….Canal & Chartes and Wisconsin & M top the charts of famous US intersections. The Georgetown Park Residences, located in Georgetown at the corner of Wisconsin and M, is one of those "location….location……location" places to call home.

Prior to its conversion to a residential and retail development in 1981, Georgetown Park had a historic past dating back to at least 1838 when it was used as a tobacco warehouse with direct access to the C & O Canal. Later uses included use a stable for horse-drawn railroad lines and later as a machine shop for streetcars. More recently, the building served as an annex for the US Defense Communications. The exterior brick walls of Georgetown Park that face the C & O Canal and M Street date back to the early days of the building.

Georgetown Park Residences is a five-story development with 92 condos. Units on the ground level have courtyard facing patios and upper-level units have outdoor balconies. The views of Georgetown and the C & O Canal from Georgetown Park units are spectacular. Building amenities include a concierge, courtyard and outdoor swimming pool.

Currently, five units are listed for sale at Georgetown Park Residences including a 1 BR / 1.5 BA with 894 SF that is listed for $479,000. Here is a resource to view all the active Georgetown Park Residences real estate listings.