Georgetown East Village
Posted by Mark Washburn on Wednesday, June 16, 2010 at 12:59 PM
By Mark Washburn / June 16, 2010
1 Comment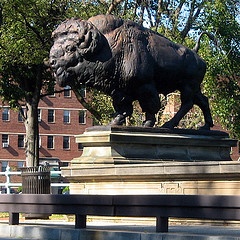 In the upper-crust Georgetown social circles, a friendly rivalry exists between residents of the East Village and West Village enclaves. Although not fortified like the Maginot Line during World War II, Wisconsin Avenue serves as the dividing line between these two urban villages. East Village is home to the rich and famous including Ben Bradlee, Sally Quinn and Bob Woodward and has also been featured in several movies over the years.
One of the key attractions to East Village residents is the close proximity to both Dupont Circle and Foggy Bottom and their Metro Stations. With Walk Scores in the mid 80s, the East Village is classified as a "very walkable" neighborhood. East Village residents enjoy the greenery, natural beauty and serenity of Dumbarton Oaks Park, Montrose Park and Rock Creek Park that wrap the northern and eastern border of the neighborhood.
The housing stock in East Village includes a selection of traditional Georgetown row houses that line the streets of the village. Some of my favorite East Village homes are located on Q Street. Rounding out the neighborhood housing inventory are several condo developments including Georgetown Gateway and Dumbarton Court. Here is resource to view Georgetown East Village real estate.
photo from flickr M. V. Jantzen