Gaslight Square: Abdo Starting Phase III
Posted by Mark Washburn on Friday, October 2, 2015 at 9:41 AM
By Mark Washburn / October 2, 2015
Comment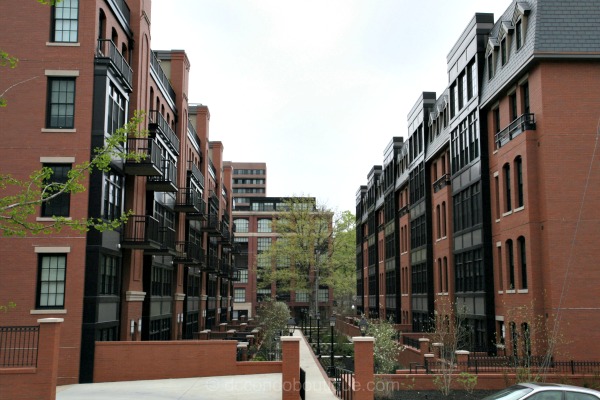 Gaslight Square is a creative condominium development in the heart of North Arlington that blends classic architecture with contemporary interior details offering spacious urban living.  It combines the best features of Abdo's award-winning condos, including generous open floor plans; dramatic open space with few walls allowing easy flow; double-height ceilings; direct access elevators; designer lighting and hardwood floors; high-end appliances; large windows; and abundant private outdoor space.  All residences enjoy expansive terraces or balconies.  Buyers get maintenance-free condos with the privacy of single-family living; plus its convenient location is walking distance to two Metro Stations, Rosslyn and Courthouse Square Metro.  Gaslight Square broke ground September 15, and will consist of 37 units.  Pre-sales have started.  Delivery is expected by the fall of 2016.

The location has key elements homebuyers are looking for in city living, such as a central location on Clarendon Boulevard steps from the heart of Arlington's thriving Clarendon commercial district.  Nearby conveniences include grocery stores like Whole Foods, Trader Joe's and Safeway; restaurants; Barnes & Noble; shops like Crate & Barrel, Williams-Sonoma and Apple Store; post office; dry cleaners; and fitness studios.  It's a 2-minute drive to I-66, Lee Highway, U.S. Route 50, and Key Bridge between Rosslyn and Georgetown.  Gaslight Square is made up of three parallel 4-story buildings.  Directly to the east are Abdo's Phase I and Phase II buildings, Wooster and Mercer lofts.  Gaslight Square is on a square block bounded by Clarendon Boulevard, North Quinn Street and 16th Street North.  As their final site in Arlington, Abdo's buildings stretch two city blocks.  The red brick and glass wall exterior façade reveals modern loft living at its finest.  As gas-lit lanterns light the pedestrian mews between its buildings, the upgrades that Abdo is making to Gaslight Square include interior design elements, changes to improve flow, and upgraded designer finishes.  

The new Phase III consisting of 37 condo residences will look like the first two 40-unit buildings but with more high-end upgrades that shoots for another level of innovation in urban residential living.  For the bi-level penthouses, they will get elevator access to either floor, unlike the first two phases that have only elevator access to the lower level of the penthouses.  Units in the third phase start from $799,900 for a 1,158 square foot 1-bedroom/1 bath unit to $1.55 million for a 1,992 square foot/2.5 bath penthouse.  Gaslight Square features large private rooftop terraces with pretty views; natural light from front to back; open oversized floor plans; 21'-foot high floor-to-ceiling windows; master baths with dual sinks; quartz countertops; hardwood floors; full size washers and dryers in the units; and one car parking with option to buy a second space in secure parking garage.  Deluxe standard features, include Wolf range and Sub-Zero refrigerator appliance package.