Franklin Park Getting Makeover
Posted by Mark Washburn on Friday, August 4, 2017 at 2:27 PM
By Mark Washburn / August 4, 2017
Comment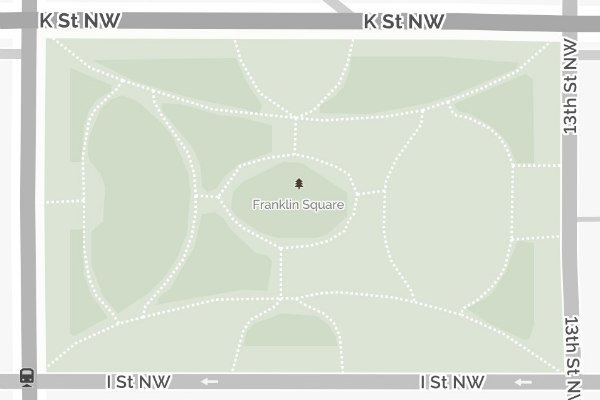 Franklin Park is in line for a makeover, with millions of dollars earmarked to renovate the space including new walkways, a new fountain, new landscaping and a community space. It's all part of a larger master plan for the park that the National Capital Planning Commission adopted last year and one some have had an eye on accomplishing for the past several years.
Originally created in the 1800s to protect an underground spring, the White House's primary water source, Franklin Park is right in the middle of Downtown DC. The nearly five-acre park is the largest one in Downtown, yet desperately in need of repairs and updates.
From crumbling pavement to dying landscaping, the park also has problems with erosion and a central fountain that's not operating correctly. New plans call for adding in dozens of new trees, a play area, an interactive fountain and a café, among other things.
Right now the Department of General Services is taking a look at proposals submitted by architectural firms interested in playing a part in demolishing the current site and constructing a better park in the future. Several big architectural firms submitted bids to meet the late July deadline, with expectations that the DGS will then select a firm from the list of eligible candidates by mid August. The chosen design will have to be in line with a master plan previously adopted by the commission.
Once a firm is selected the project will then move into additional design phases, with approval from the NCPC possibly coming in late spring of 2018. That would put the start of construction on a tentative schedule for mid November 2018.
Nearly $14 million dollars has been set aside for the project by the District, though the entire project is still in need of congressional approval. Pending legislation would allow the District to control the park, which is currently owned by the National Park Service.