Foxhall Village: A Close Knit Hideaway in Northwest DC
Posted by Mark Washburn on Monday, July 22, 2013 at 6:21 AM
By Mark Washburn / July 22, 2013
Comment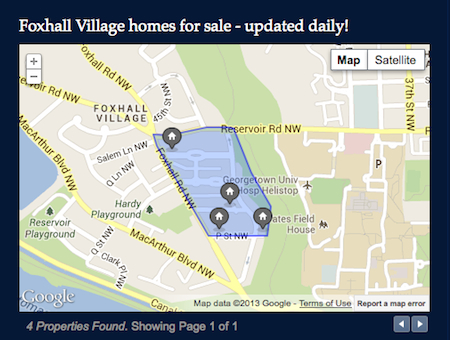 DC's Foxhall Village is an elegant, upper-middle class, European-influenced neighborhood tucked away west of Georgetown, and located between the Palisades neighborhood and Georgetown.  It is a triangle-shaped quiet residential area with 350 homes.  The absence of through streets helps keep Foxhall Village tranquil. Dotted with well-kept gardens, manicured lawns, and beautiful Tudor homes, Foxhall Village is a short bus ride or drive from downtown DC, yet it is serene and secluded off the beaten path.  Homes date back to the 1920s. The neighborhood is between Foxhall and Reservoir roads and 44th Street, NW, next to Glover Park allowing residents an easy walk to Georgetown to do their shopping.

While aesthetically pleasing to the eye, the houses look similar on the outside yet no two are exactly alike with beautiful architectural detail on the exteriors.  The Tudor homes are 2-3 stories; most have screened-in porches; fluted molding; leaded-style windows; curvy chimney pots; and stone globes or pediments and stone crests (medallions) on the brick facades.  The charming Tudor homes are finished in brick, stucco and half-timbering with slate roofs, and either side or front gables. 

Residents say everyone seems to know each other.  With a strong community group---Foxhall Village Citizens Association---common neighborhood issues are tackled, like parking.  There are plenty of families living here, professionals in their 30s and 40s, Georgetown graduate and medical students (Georgetown University Hospital is nearby), and employees of the World Bank as well as couples from assorted foreign countries, since Foxhall Village is located near the German and French embassies.

Homes in Foxhall Village sell from mid-to-high six figures to over $1 million.  The inventory of homes for sale is generally low.  The high performing schools in the area, both public and private, are a draw for families.  The sloping wooded terrain influenced the street plan, in which the curving streets keep the picturesque setting intact; the visual interest also reduces driving speeds in the residential neighborhood.