First Wegmans Opens Near Tenleytown in DC
Posted by Mark Washburn on Wednesday, August 10, 2022 at 2:41 PM
By Mark Washburn / August 10, 2022
Comment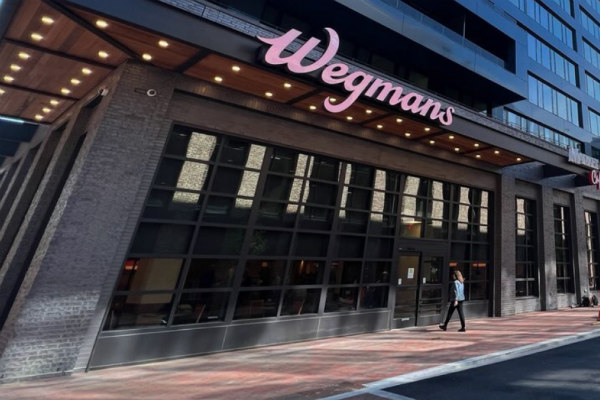 Grocery shoppers have a brand-new option in Tenleytown, and this one is gaining a lot of attention. It just opened, but already the new Wegmans store is bringing in the crowds.
This part of DC already has several grocery stores, but this marks the very first location for a Wegmans in the District. The large market is part of Tenleytown's City Ridge development.
Touted as a one-stop-shop for what you need, and even what you don't know you need, Wegmans sells everything from paper towels and other daily necessities to liquor and wine and fancy cheese. Not only will you find tens of thousands of grocery items in the new Wegmans store, but also a pharmacy, fresh-cut flowers, and even a Burger Bar.
Something else unique is that Wegmans sells hundreds of different sakes, vermouths, and global spirits. Wine lovers can choose from a budget-friendly option, or a pricy $1,200 bottle at Wegmans.
There's also the option for in-store dining, like burgers and pizza, salads, self-serve buffets, a coffee shop, or a bakery. If you want to eat at home, the store sells caviar and live lobsters, plus everything from grab-and-go hot meals to raw meat and ready-heat meals.
For convenience, the store offers in-store shopping, online shopping, curbside pickup, and some delivery. The new grocery store is part of the redevelopment of the old Fannie Mae Headquarters in DC.
The greater development will eventually include a hotel, hundreds of residential units, tens of thousands of square feet of office space, and more than 150,000 square feet of retail space. Crews are adding some new buildings and reusing the existing headquarters at the site.
Another Wegmans is planned for Reston next year, and there's one coming to Delaware later this fall. New York-based Wegmans has more than 100 stores in various other states already, also including New Jersey, Pennsylvania, Maryland, Virginia, North Carolina, and Massachusetts.