Falls Church is Healthiest Community in Nation
Posted by Mark Washburn on Friday, May 4, 2018 at 7:39 PM
By Mark Washburn / May 4, 2018
Comment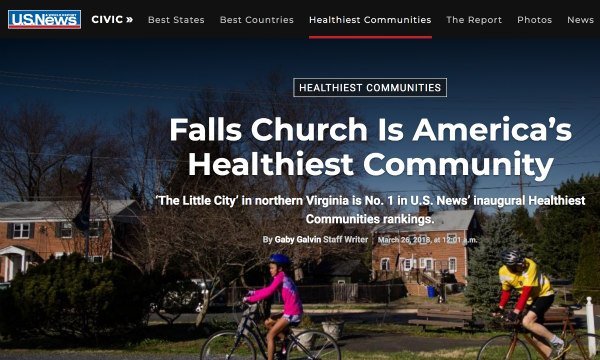 Well known for its great schools, great health care and great location, Falls Church just added another high-ranking item to its list. According to a U.S. News & World Report survey, Falls Church is also the nation's healthiest community.
The survey looked at around 3,000 U.S. communities, ranking them all in terms of 10 main categories. Researchers used categories ranging from the environment and housing to infrastructure plus food and nutrition to come up with a score for each community. They also looked at any possible racial disparities.
The ranking shouldn't come as much of a surprise. Researchers note that Falls Church has an impressive school system, a low crime rate and a low poverty rate, all things that have attracted many residents to the area in the past.
At only about two square miles, Falls Church is known as "The Little City", a place that thrives on its small town feel, yet remains not far from the hustle and bustle of Washington. City leaders are also focused on creating a walkable and bikeable community, with plans for a bike share and other environmentally friendly programs that continue to make it such a pleasurable place to live.
Falls Church isn't the only Northern Virginia community to rank high on the list. Fairfax City and Loudoun County also made it into the top ten, complimented for putting an emphasis on healthy eating and exercise. In fact, all three of these communities share a high-income ranking, walkability and score well in both education and health.
It's suspected that some of the lower marks for the three come from things like traffic pollution and congestion, plus affordable housing. A lack of affordable housing also meant lower marks for some other DC area communities.
As for others in the area, Howard County came in at number 20, followed up by Fairfax County. Arlington County took the 31st spot.