Fairlington Offers Affordability Close to the District
Posted by Mark Washburn on Monday, February 17, 2014 at 7:16 AM
By Mark Washburn / February 17, 2014
Comment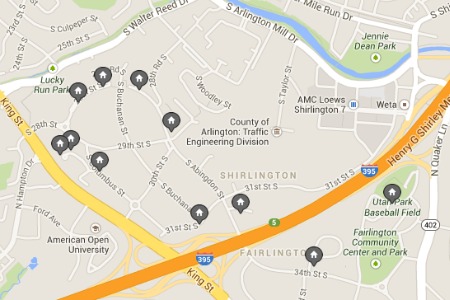 The rolling hills and gentle shade trees of Fairlington offer a quiet neighborhood to those who prefer to live in the suburbs but close enough to several routes to easily commute to work either in Northern Virginia or DC.  Fairlington is a neighborhood in Arlington, VA located adjacent to Shirlington.  By car, main thoroughfares are I-395, King Street (State Route 7) and Quaker Lane (State Route 402).  Several Metrobus routes traverse the neighborhood and adjacent roads.  Two Metro stations are within 3-4 miles of Fairlington.  Reagan National airport is 5 miles away.

Fairlington consists almost entirely of townhouse-style condominiums built in the 1940s but almost all have been extensively updated.  Fairlington is listed on both the National Register of Historic Places and on the Virginia Landmarks Register.  The Fairlington Association is organized into 7 independent condo associations called villages located within the south Arlington neighborhood of Shirlington.  As Fairlington's streets and common areas are winding, the 3,439 condo units are grouped in courts usually 3 or 4 separate buildings of 40-50 units with a parking lot.  Most units are 3 levels, townhouse-style, and there are 20 different condo models.  Most units have a small courtyard off the back door surrounded by a wooden fence.  The common areas include pools, tennis courts, basketball courts and playgrounds.  Sidewalks along the streets and in the common areas wind throughout Fairlington connecting the neighborhood.  All buildings are brick Colonial Revival-style.

Most people who enjoy the Fairlington neighborhood praise the varied trees that line the neighborhood: oaks, maples, elms and sycamores.  Fairlington is within minutes of the restaurants, shopping, and entertainment venues of Shirlington as well as DC.  Fairlington is bordered by King Street on the south, Quaker Lane on the east and South Abingdon Street on the north.  The Fairlington Citizens Association works with neighboring community associations to preserve and protect the quality of life in Fairlington.
View Active Fairlington Listings:
Fairlington Townhouses For Sale