Explore DC's Wakefield Neighborhood
Posted by Mark Washburn on Monday, December 7, 2015 at 11:36 AM
By Mark Washburn / December 7, 2015
Comment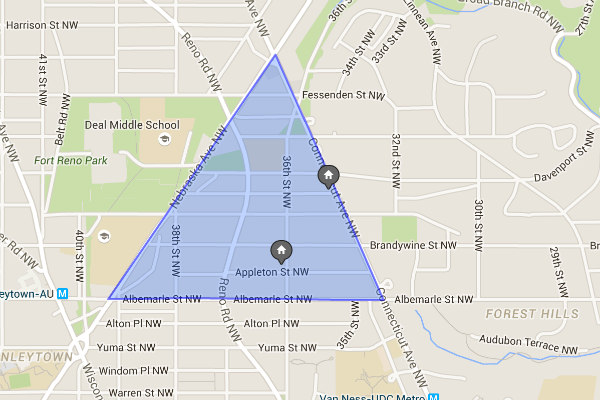 At the northern tip of Cleveland Park, a triangle north between Cleveland Park and Chevy Chase DC, Wakefield is a residential neighborhood in northwest DC that is one of the fastest moving neighborhoods for buyers to live with two Metro Stations, frequent bus lines, and abundant restaurants and retail. Albermarle Street NW to the south, Nebraska Avenue NW to the west, and Connecticut Avenue to the east bound the area. Van Ness-UDC and Tenleytown-AU Metro Stations on the Red Line serve it. DC communities adjacent to Wakefield include Friendship Heights, American University Park, Cleveland Park, Chevy Chase, Tenleytown, and Forest Hills.

Wakefield is a residential enclave near busy commercial and retail areas in Chevy Chase DC, Tenleytown and Van Ness. The Washington Post reported Wakefield had become one of the most popular neighborhoods in DC, according to a May 2014 article citing data from the real estate listing service MRIS. In the 12 months leading up to July 2015, homes in Wakefield appreciated more than any other neighborhood in DC, up 42 percent from $573,433 to $814,045.

Most of the area was built before World War II. Real estate developer R.B. Warren, who built only 100 brick homes between Connecticut and Nebraska Avenues, and gave the new neighborhood the moniker, Wakefield, developed the area in the 1930s. In a list of Top 10 hottest neighborhoods in DC, based on fierce bidding wars and soaring home values, the Washington Post compiled a list of neighborhoods with the shortest selling times (10 days on the market) and median sales price. Wakefield ranked a high #2 spot. It has been called one of DC's most popular neighborhoods and fastest moving neighborhoods with several Metro stations, frequent bus lines up and down Connecticut Avenue, and its many restaurants, cafes, coffee shops, and retail stores.