Explore Burleith
Posted by Mark Washburn on Wednesday, September 30, 2015 at 8:04 AM
By Mark Washburn / September 30, 2015
Comment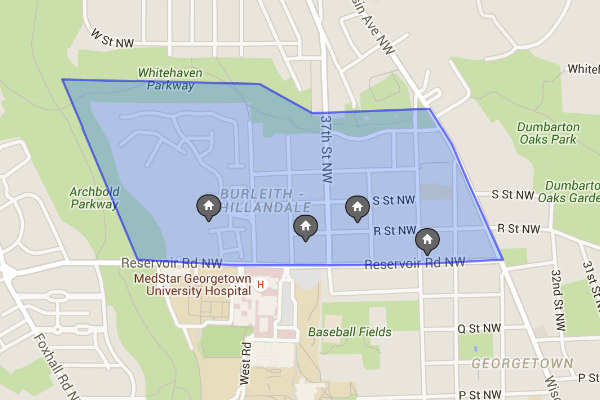 The Burleith neighborhood is known for its close proximity to its glamorous neighbor to the south, Georgetown.  Often described as "Georgetown North or "Upper Georgetown," Burleith in northwest DC is close to the action of Georgetown but remains a quiet, upscale neighborhood that enjoys being walking distance to the action but remaining quiet and low-key.  A totally residential community, Burleith is made up of 535 single-family row houses built in the 1920's.  Recreational activities within the neighborhood include walking or biking on the nature trails of the C&O Canal leading from Glover Park; discovering smaller parks; and romping on the playgrounds.

Burleith is a wonderful, moderately priced gem of a neighborhood that is bordered by 35th Street, NW, to the east, Reservoir Road and historic Georgetown to the south, Whitehaven Park to the north, and 39th Street and the 24-hour gated community of Hillandale to the west.  It is adjacent to the French Embassy and Georgetown University.  Residents include current Congressmen and U.S. Senators, like Sen. Joseph Lieberman, former NFL Commissioner Paul Tagliabue and Georgetown University President John DeGioia.  The Burleith Citizens Association plans social activities during the year, such as children's events and neighborhood-wide picnics; and a farmer's market takes place every Sunday at local Hardy Middle School.

Homes in Burleith are predominantly small row houses lining the streets.  Residents run the gamut from young families with children to Georgetown students to retirees.  Many residents work for the federal government, World Bank and Smithsonian museums.  The neighborhood is seeing more strollers these days with young couples with small children living here.  The homes, however, are not large so families often move out when their families begin to expand and they need more space.  The small row houses remain tasteful.  While Burleith is a nice quiet little residential area, it's a short walk to Georgetown and Wisconsin Avenue, and a multitude of Georgetown restaurants and shops.  Most residents take one of the buses that run up and down Wisconsin Avenue since the closest Metro station is across the Key Bridge in Rosslyn, approximately 1-½ miles away.