Every Day is a Vacation at Lake Barcroft
Posted by Mark Washburn on Wednesday, February 17, 2016 at 11:40 AM
By Mark Washburn / February 17, 2016
Comment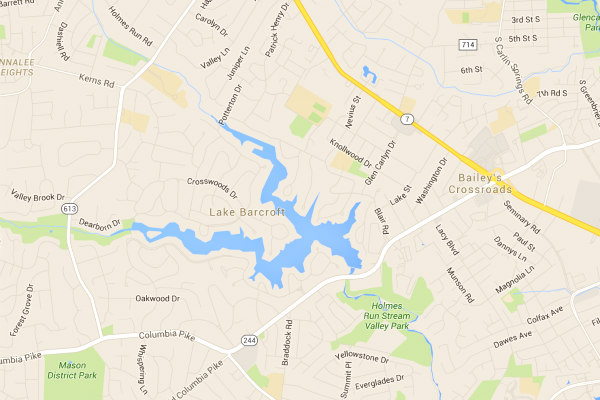 Vacation living inside the Beltway is every commuter's fantasy, and residents in Lake Barcroft appreciate a short commute to downtown DC, and recreational activities on the privately owned lake in their community set in tranquil surroundings.  Residents in Lake Barcroft in Fairfax County, Virginia live close to the water, allowing them to canoe, sail or fish in the evenings or weekends.  Most residents own a canoe, small sailboat or electric powered boat.  Lake Barcroft is located south of Falls Church, west of Seven Corners and Bailey's Crossroad; Sleepy Hollow Road is to the northwest, Columbia Pike is to the south, and Leesburg Pike to the east.  East Falls Church is the closest Metro Station just three miles away.  The Seven Corners Shopping area is less than a mile; Pentagon City is 6 miles away; and Tyson's Corner is 9 miles from Lake Barcroft.
 
The heart of Lake Barcroft is the man-made reservoir created by a dam to provide drinking water to Alexandria residents as far back as the 1900s.  The lake and dam were later sold in the 1950s to private developers who built this upper middle class residential neighborhood.  Former residents of Lake Barcroft include Senator Robert Dole of Kansas, Supreme Court Justice Thurgood Marshall, former Clinton chief-of-staff John Podesta, former Attorney General Ramsey Clark, several congressmen, and former White House Press Secretary Pierre Salinger.  The dominant architectural home designs are ranch-style and split levels, but many have been torn down and rebuilt as contemporary midcentury modern homes with large panes of glass walls in the living areas to enjoy panoramic lake views and wooded landscapes, as well as rear decks and screened porches.  Well-known architect Charles Goodman designed many homes in Lake Barcroft.  

While lakefront property belongs to more than 200 individual homeowners, all residents in Lake Barcroft have access to the lake from several private white sand beaches that are open to people who live in Lake Barcroft.  Summer neighborhood social events include boat races, aquatic festivals, barbeques, bonfires, Fourth of July parade and fireworks, Music on the Lake, and Chamber Music performances. For Independence Day, fireworks are fired from a beach, and residents boat on the water in their electric-powered or paddleboats to watch.  Ice-skating is a popular activity in the neighborhood during the winter season when the lake freezes.
Currently, two homes are listed for sale in the Lake Barcroft neighborhood ranging in price from $585,000 to $859,900.  Here is a resource to explore Lake Barcroft real estate options.