Enjoy The Capital Crescent Trail
Posted by Mark Washburn on Monday, October 5, 2015 at 11:42 AM
By Mark Washburn / October 5, 2015
Comment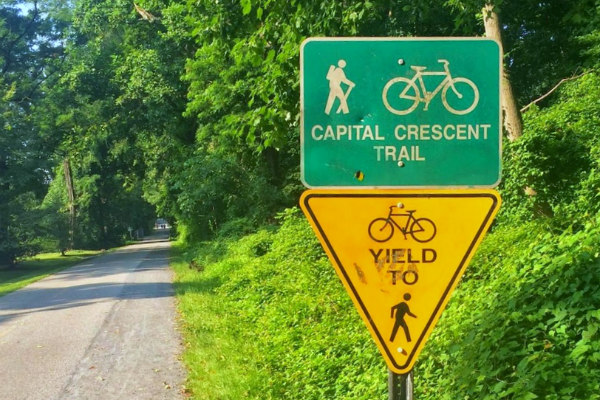 Hands down, we've found the best bike trail in the country!  The Capital Crescent Trail, a beloved former rail trail is today a multi-use off-road path between Georgetown and Silver Spring, Maryland built atop an old abandoned B & O railway in the 1990s.  Today, it's the most popular rail trail in the United States.  At 11 miles long, it is the most noticeably used rail trail in the U.S., running from Georgetown in DC through Bethesda, Maryland, to Silver Spring, Maryland.  More than 1 million joggers, cyclists, walkers and rollerbladers use the Capital Crescent Trail each year for recreation and also commuting to work.  It has been designated as one of "21 great places that show how transportation can enliven a community" by the Project for Public Spaces.

Formerly a railroad that began in 1910 but stopped running on the line in 1985, advocates lobbied to turn the rail trail into a bike trail, and built a hard surface bike trail along the Bethesda-Silver Spring section of the right-of-way.  In 1990, the National Park Service developed the trail as part of the Chesapeake and Ohio (C&O) Canal National Historic Park.  The trail was built over time in several sections by different federal and state agencies.  The paved segment of the trail starts south of Bethesda, and follows the Little Falls Branch to the Potomac River and the DC line.  It goes over the River Road Bridge and later crosses into DC.  It drops down from the Palisades neighborhood in DC over the C&O Canal and down to the banks of the Potomac River.  It runs between Potomac and the C&O Canal, past Fletcher's Boathouse and the Foundry Branch Tunnel into Georgetown and ends at Water Street, NW.  

The final section of the Capital Crescent Trail from Lyttonsville to the Silver Spring, Maryland Metro Station is being planned together with development of the Purple Line of the DC Metro system.  Recently, the Maryland Transit Administration rejected proposals to run both the trail and light rail track through a tunnel in downtown Bethesda, diverting bikers and pedestrians to a sidewalk on a busy stretch of Wisconsin Avenue.  Its views and tranquility capture the hearts of residents, and is popular for both commuters and weekend users alike with four bridges and two tunnels.