Eisenhower Avenue Corridor Emerging in Alexandria
Posted by Mark Washburn on Friday, May 22, 2015 at 11:08 AM
By Mark Washburn / May 22, 2015
Comment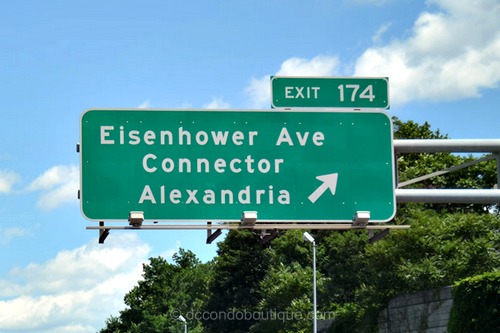 The community around Alexandria, Virginia's Eisenhower Avenue Metro Station is appealing and emerging as the next big thing.  The new buildings are attractive, with condos, office buildings, hotels and tall luxury apartment buildings sprouting up served by several shops in the neighborhood.  The Eisenhower Avenue neighborhood's strength lies in its close proximity to DC.  It's very close to the Beltway and Route 1, which makes going to and from DC an easy shot.  It's located north of the Beltway and west of Alexandria's Old Town.  

Urban dwellers will enjoy amenities west of the Metro Station, including a popular AMC movie theater and charming independent restaurants and a few chain eateries.  The 4-½ mile corridor on Alexandria's West End has seen an explosive development with thousands of new residents, new hotels, a Whole Foods specialty market, a movie theater complex, restaurants and parks.  For Eisenhower East, the future is bright.  Hoffman Company has developed retail and luxury high-rise apartments in the area as well as an office complex with retail.  Three Metro Stops serve the area: Eisenhower, Van Dorn and King Street.  Bike trails run throughout Eisenhower Valley including connections between Duke Street and Eisenhower Avenue.

City planners are excited about the additional growth and development.  The Eisenhower Partnership has been working with the residents, businesses and local government to make the Valley "a better place to live, work and play."  They support economic development on the east end of Eisenhower Avenue to the west end of Eisenhower Avenue.  The U.S. Patent and Trademark Office has a campus of sleek modern buildings here.  The National Science Foundation will move to the Hoffman Center at the start of 2017.  The new headquarters will be built on the parking lot next to the AMC Hoffman Center 22 Movie Theater across the street from the Eisenhower Metro Station.  This means more tax revenues for the city of Alexandria and over 4,000 new jobs.
Search Near The Eisenhower Metro Station
Listings Near Eisenhower Avenue Metro Station