Eckington is Steeped in DC History
Posted by Mark Washburn on Tuesday, April 29, 2014 at 4:38 PM
By Mark Washburn / April 29, 2014
Comment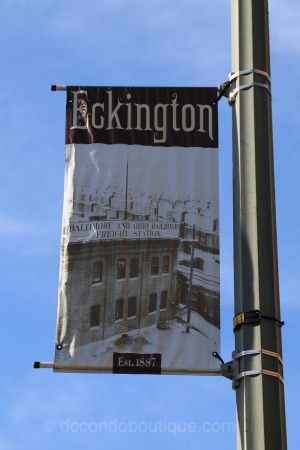 One of DC's oldest neighborhoods located between Bloomingdale and NoMa, Eckington, is undergoing a mixed-use rebirth.  With charming turn-of-the-century row homes and older industrial buildings, new residential developments are springing up.  Eckington is located in the near Northeast section of DC and is conveniently close to two Metro Stations nearby, both Rhode Island Avenue and NoMa-Gallaudet.  The boundaries of Eckington are Rhode Island Avenue to the north, the Brentwood Metro Yard to the east, Florida Avenue to the south and North Capitol Street to the west.

Eckington is a special close-knit community with a storied past. It was developed in the late 19th and early 20th century after a streetcar line was extended to this area.  The neighborhood first included several older subdivisions but the most prominent is Eckington, a neighborhood subdivision platted in 1887 and developed by real estate magnate George Truesdell.  Truesdell initially laid the streets and provided the infrastructure, including the streetcar line that went from T and U Streets, NE, to New York Avenue and 7th Street, NW.  The streetcars provided needed transportation and allowed electric lights for the streets and individual residences, which was considered a valued amenity in those days.

Currently, row houses on the tree-lined streets adjacent to the Metropolitan Branch Trail Bike Path pass through Eckington on its eastern borders.  The community is also home to McKinley Technology High School and its large campus as well as several industrial buildings.  Eckington is adjacent to Bloomingale, which includes shops, convenience stores and a new Harris Teeter market along 1st street. 
Eckington Real Estate Listings:
Eckington Homes And Condos For Sale: