Dupont Circle Historic District
Posted by Mark Washburn on Sunday, July 20, 2014 at 8:06 AM
By Mark Washburn / July 20, 2014
Comment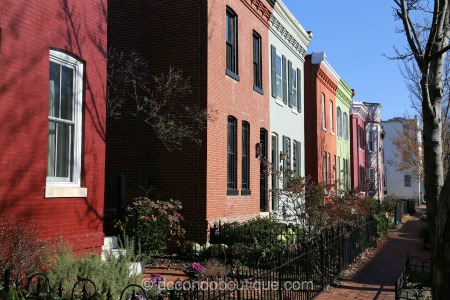 The Dupont Circle neighborhood has been an affluent and vibrant neighborhood since the late 1880s when Alexander Shepherd built a mansion and spearheaded Dupont into a stylish development.  To retain its historic designation and character, the Dupont Circle Conservancy is an active, all-volunteer membership organization with a mission to promote preservation of the historic and architectural character of the Dupont Circle Historic District and adjacent areas.  The Dupont Circle Metro Station is conveniently located here.

The Board of Public Works and the Corps of Engineers began development and construction of tracts of undeveloped land in 1871, beginning construction of Dupont Circle, formerly called Pacific Circle.  Sculptor Daniel Chester French and architect Henry Bacon designed a double-tiered white marble fountain in 1921 with 3 classical figures carved on the fountain symbolizing the Sea, the Stars and the Wind.  This fountain is a popular gathering spot for residents and visitors, and a well-known sight.

Today, the Dupont Circle Historic District is mostly a residential district extending out in all directions from Dupont Circle like a wheel.  The area was developed in the end of the 19th century and the early 20th century.  The predominant housing styles are palatial mansions and single 3- and 4-story rowhouses in the Queen Anne style and Romanesque Revival styles.  The residences line the wide, tree-lined diagonal avenues that intersect the circle.  Dupont Circle has a unique character, and draws residents who yearn for a city vibe and urban living.  

Dupont Circle Historic District is bounded by Rhode Island Avenue, NW; M and N Streets, NW, on the south; Florida Avenue, NW, on the west; Swann Street, NW, on the north; and the 16th Street Historic District on the east.
Dupont Circle Historic District Homes For Sale
Dupont Circle Historic District Homes For Sale