Dumbarton Street In Georgetown
Posted by Mark Washburn on Tuesday, May 17, 2011 at 7:33:58 PM
By Mark Washburn / May 17, 2011
Comment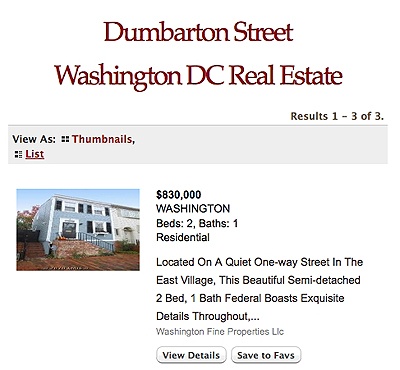 Dumbarton Street in Georgetown's East Village runs a mere 5 blocks from Wisconsin Avenue to Rock Creek Park. It is a one-way street that has an east-west orientation between N and O Streets. The street is lined with older brick row houses which have been meticulously restored to their 19th century grandeur. Mature trees and brick sidewalks enhance the beauty of Dumbarton Street.
Dumbarton Street was in the news this week as it is home to troubled IMF head Dominique Straus-Kahn. Other notable Dumbarton Street residents have included Henry and Nancy Kissenger, Cyrus Vance, Harold Ickes, Ben Bradlee, Kitty Kelly, and Don Ritter. Dumbarton Street is also home to the United Methodist Church, the First Baptist Church of Georgetown, the Epiphany Catholic Church and the Rose Park Recreation Center.
Currenty, two homes are listed for sale on Dumbarton Street, a 2 BR / 1 BA Federal-style home listed for $830,000 and a 2 BR / 1 BA brick home currently zoned for commercial and being used as a bookstore that is listed for $759,500. Here is a resource to view active Dumbarton Street real estate.