Dumbarton Oaks is a Georgetown Gem
Posted by Mark Washburn on Friday, September 1, 2017 at 12:11 PM
By Mark Washburn / September 1, 2017
Comment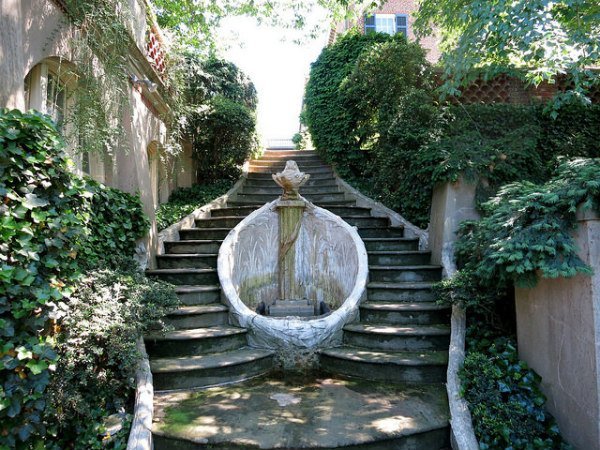 Photo: DC Gardens
The historically significant Dumbarton Oaks is a true Georgetown gem, filled with gardens, artwork and generations of world history. Once owned by a US diplomat, the property is now open to the public, offering a rich selection of collectibles, artwork, rare books and, of course, gardens.
Gifted to Harvard University by its former owners, the old mansion and its grounds house a generous private collection of Byzantine and Pre-Columbian artwork. As the site's now earmarked as a research library for artists, students and scholars, people come here to further study the property's documents, images, books and rare objects.
Opened up not long after the start of WWII, the Dumbarton Oaks Research Library and Collection acts to support international research into Pre-Columbian, Garden and Landscape and Byzantine studies. On a historical note, the location has also served as the site to a number of past diplomatic meetings, eventually leading to the creation of a United Nations charter.
Most impressive for much of the general public, though, is the invitation to now stroll the institute's historic gardens and museum and its world-renowned artwork. The property's Music Room, in particular, provides the setting for historic furniture and art, while also serving as a setting for occasional concerts and lectures.
Rotating exhibits, meanwhile, grace the space just off the museum's lobby, while permanent and temporary displays are also at home in the courtyard. Another impressive offering is the Rare Book Gallery, highlighted by rare drawings, manuscripts and books related to garden history, garden design and landscape architecture.
The gardens themselves are just as impressive, carefully designed with input by the former owner, with virtually no detail left up to chance. Currently under renovations, the gardens are expected to open back up to the public in mid March of 2018.
Until that time, architectural and docent-led tours continue within the museum's walls. Available on certain days each month, these tours highlight particular aspects of the museum and its vast collections. As well, visitors continue to come on their own to view the museum's private collections for free.