Dumbarton Oaks Gets New Greenhouse
Posted by Mark Washburn on Friday, August 30, 2019 at 4:18 PM
By Mark Washburn / August 30, 2019
Comment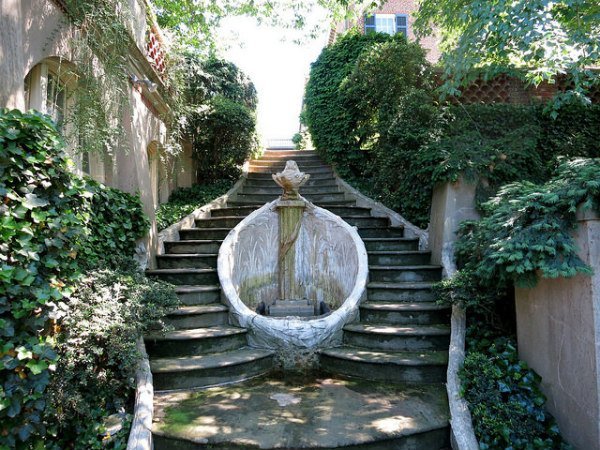 Photo: DC Gardens
Dumbarton Oaks in Georgetown is getting a new greenhouse. The new project is part of an effort to further improve energy savings and sustainability of the campus and its gardens.
A New York-based architectural firm is spearheading construction of the new greenhouse. Crews plan to use energy efficient climate control and solar panels in its construction. They also aim to improve irrigation. It's all reportedly part of a three-year plan to help benefit the estate and increase its offerings.
In phase two of the project, architects are additionally planning to renovate the property's existing greenhouse. Constructed in the mid 1920s, it's said the old greenhouse will retain its original design but be updated to help support the estate's arts and educational programming.
Once a private home, the estate now belongs to Harvard University. It's a research institute in the fields of art, landscape architecture and garden design.
Along with its expansive garden, the property also boasts a museum containing a collection of Pre-Columbian and Byzantine artwork. Its garden, though, is perhaps one of the biggest draws for visitors.
The garden first opened in the late 1930s and takes up 27-acres of the historic estate. It includes a Rose Garden filled with hundreds of roses, a small fruit orchard, and a peaceful Ellipse.
An Orangery also still stands at the estate. Constructed in the 1800s, it marks one of the oldest structures on the property.
You'll also find some quiet places to reflect and take in the landscaping, including the many unique terraces, as well as the estate's working vegetable garden. Cherry Hill is one of the most picturesque spots at Dumbarton Oaks.
You'll also find a small shelter called the Catalogue House. It's used to display historic photos and other items unique to the estate.
Located on the highest point in Georgetown, Dumbarton Oaks is open most days of the year during select hours. There is a small admission cost to enter the garden, and some guided tours are available.