DMV Counties Dominate Wealthiest in Nation List
Posted by Mark Washburn on Monday, July 31, 2017 at 9:13 AM
By Mark Washburn / July 31, 2017
Comment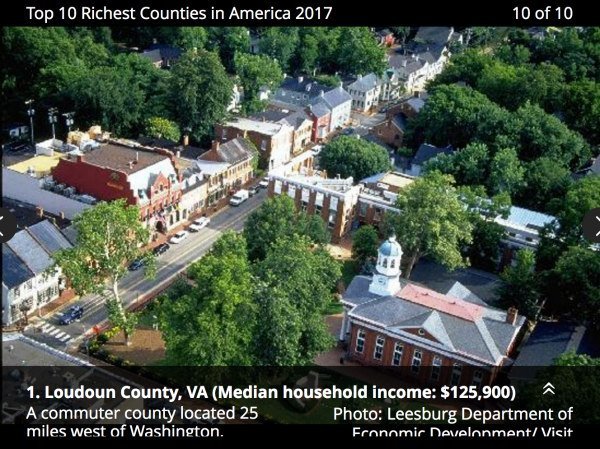 There's no doubt that politics shape the DC area, but now it turns out some of DC's suburbs dominate the nation when it comes to America's wealthiest counties. In fact, half of the richest counties in the US are within about an hour of the capital.
According to Forbes, which based its findings off Census Bureau income data from 2015, the top four '10 Richest Counties in America' are all in the DC region. At the very top is Loudoun County, followed by Falls Church, Fairfax and Howard.
About 25 miles to the west of DC, Loudon County, Virginia boasts a median household income of nearly $126,000, the highest of any other county in the nation. The county supports a number of data centers and tech companies, with other top employers including the Department of Homeland Security. An estimated 10,000 residents commute in to DC, while many others are employed by the more than 11,000 businesses located within the county.
Neighboring Falls Church may be the smallest in population, but private sector industries and a large percentage of government jobs are said to help boost it to number two on the list. Most people living in Falls Church hold at least a bachelor's degree and the county experiences an extremely low poverty rate.
Fairfax County is noted as the first county in the US to ever achieve a median household income of six-figures, while fourth place Howard County is boosted by the regional headquarters of Verizon Wireless and thousands of jobs credited to a Johns Hopkins University lab located within the county. Arlington comes in at a respectable number eight on the list, with about 24,000 residents employed by the Department of Defense and the Pentagon.
In the past Loudoun and Fairfax counties have been additionally ranked as the happiest in the country while Arlington has received a top designation as among one of the best places for millennials and for being one of the hippest places in the country.